Lisbon is home to the Thai embassy in Portugal. If you want to visit Thailand then you will need to apply for a Thai visa such as a tourist visa. If you are older than 50 you can apply for a retirement visa or a business visa if you are going to work in Thailand or to do business in Thailand. Speak to the embassy staff about your visa options for Thailand. Note the office hours listed below with a map to the embassy and also the contact details.
Thai Embassy in Portugal
The Thai Embassy in Portugal is the diplomatic mission of Thailand to the Portuguese Republic. Likewise the embassy is located in Lisbon, the capital city of Portugal. The embassy is responsible for strengthening bilateral relations between Thailand and Portugal. This by promoting political, economic, cultural, and social ties. The embassy also provides consular services to Thai nationals living or traveling in Portugal. Likewise to Portuguese nationals interested in traveling to Thailand or conducting business with Thai entities.
The Thai Embassy in Portugal offers a range of consular services. Additionally including passport and visa applications, birth registration, and marriage registration. In addition, the embassy provides assistance to Thai nationals in emergencies, such as lost or stolen passports or other important documents. The embassy also works closely with Portuguese authorities to ensure the safety and well-being of Thai nationals in Portugal.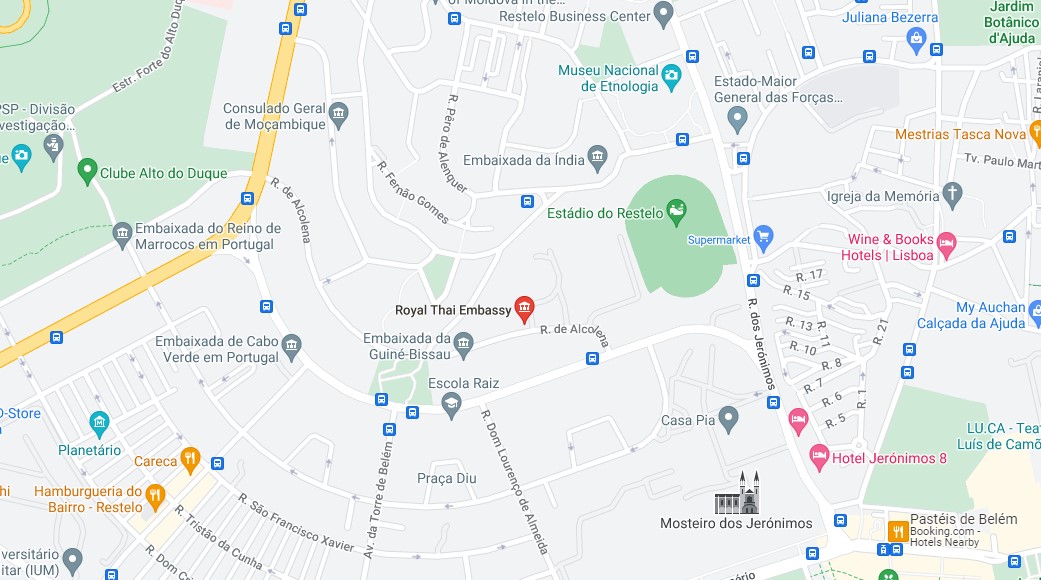 The Thai Embassy in Portugal plays an important role in promoting Thailand's rich culture and heritage to the Portuguese public. The embassy organizes cultural events, exhibitions, and seminars to introduce Thai culture, cuisine, and tourism to the Portuguese people.
In addition, the embassy supports cultural exchange programs between Thailand and Portugal, including student exchange programs, scholarships, and artist residencies. The Thai Embassy in Portugal is an important bridge between Thailand and Portugal, promoting mutual understanding and cooperation between the two nations. Likewise also see the Thai Embassy Indonesia as well as the Thai Embassy in Beijing.
Thai Embassy in Portugal
Rua de Alcolena 12, Restelo, 1400-005, Lisboa, Portugal
Tel: (+351) 21 301 4848
Fax: (+351) 21 301 8181
Email : thai.consul.lisbon@gmail.com
Email : rte.lisbon@gmail.com (general inquiries)
Office Hours :Monday - Friday 09.00 - 12.30 hrs. and 13.30 - 17.00 hours.
Visa and Consular section : 09.30 - 11.30 hrs. and 13.30 - 16.30 hours.

Thai Visa Application
The Royal Thai Embassy has made an important announcement regarding the visa application process. Specifically, the Embassy has ceased accepting in-person visa applications from today, 21 October 2022. This move is a preparatory step towards implementing the Embassy's new online stickerless E-visa application service, which will be launched on 1 November 2022.
30 Euro for Transit Visa (per entry)
40 Euro for Tourist Visa
80 Euro for Non-Immigrant Visa "O", "B" & "ED"
175 Euro for Non-Immigrant Visa "O-A" Visa
Additionally this new service will completely replace the current in-person visa application process for Portuguese citizens and travelers with legal residence status in Portugal. The new online application process can be accessed through the website https://www.thaievisa.go.th/. Moreover an advantage of the new process is that applicants will no longer be required to submit their passports and original supporting documents to the Embassy in person. Instead, once the application is approved, the e-Visa will be sent directly to the applicant's email address. It is important to note that applicants will need to print out their e-Visa and present it to the airline during check-in for their flights, as well as to Thai Immigration officials upon their arrival in Thailand.
For any further inquiry please email :  thai.consul.lisbon@gmail.com

Applying for new Thai passport
Likewise an electronic passport (e-passport) is a passport with technical specifications according to the requirements of the International Civil Aviation Organization (ICAO). Likewise which is different from the original passport. Biometric data such as fingerprints and facial features are recorded in the Contactless Integrated Circuit. Additionally this which is embedded in the passport book. Moreover, it can be read by Automatic Gate machines at international border crossings. Thus providing automatic verification to compare passport information with passport holder (1:1).
Furthermore, e-passports have higher anti-counterfeiting capability. Moreover this which is an important measure to deter transnational terrorist movements and immigration, among others. Additionally, they are able to identify people accurately and quickly, facilitating travel, immigration, and promoting tourism. Furthermore, e-passports enhance the image of the country, making Thai passports more reliable and accepted more internationally. Finally as a result, they continue to positively affect the economy, trade, investment, and tourism of the country.
Additional Documents
Additionally regarding evidence of applying for an electronic passport for individuals. Likewise one must have an ID card with a 13-digit number and submit a petition in person. Moreover the petitioner must go through the biodata recording process, which involves taking pictures of faces and fingerprints. The following are the necessary steps: getting a queue card, meeting with staff to measure height and collect biodata, taking a photo and collecting fingerprints with a scanner (right index finger and left index finger twice each), signing the petition, paying the fee, and receiving a receipt and an appointment book.
Lastly, the Ministry of Foreign Affairs continues to charge electronic passport fees at the same price as the current passport. Likewise which is 1,000 baht per book and is valid for 5 years. However, the new e-passport has increased the page from 32 to 50 pages.
Interested persons can request more information at telephone number 02 981-7257 to 60 during official days and hours and at  www.mfa.go.th.  or inquire via email at consular05@mfa.go.th. Lastly also see the Thai Forms on here.

Electronic Passport Renewal
To maximize the efficiency of electronic passports, certain requirements have been put in place. One of these requirements is that the passport must be valid for 5 years and cannot be renewed. Instead, a new passport will be issued. Additionally, any amendment or change to the passport holder's personal information recorded on the passport book is strictly forbidden. This is to prevent any conflict with the information already recorded on the microchip and to ensure credibility. Any changes made to personal information must be submitted in writing to the Ministry of Interior.
The period of initiation for using electronic passports began on May 26, 2005, with the availability of Diplomatic and Government electronic passports. In the first phase, the passport issuance service was only available at the Department of Consular Affairs Building on Chaengwattana Road. From August 1, 2005, all electronic passports were issued, and they could be received at the Department of Consular Affairs Branch offices in Bangkok (Pinklao, Bangna), other provinces (Khon Kaen, Chiang Mai and Hat Yai), and at 86 Thai consulates around the world.
Additional Documents
After submitting a petition for an e-passport, the petitioner can receive their passport two working days later. The Ministry has also installed a simulated electronic passport reader at the Department of Consular Affairs to enable the petitioner to test the automated entrance-exit process. It is recommended that the applicant picks up their own copy to familiarize themselves with the use of electronic passports and automated immigration systems. In case of necessity, the petitioner may authorize someone else to receive their passport on their behalf or request delivery by express mail. For more information, interested persons can contact the Ministry via telephone or email or visit their website.
Interested persons can request more information at telephone number 02 981-7257 to 60 during official days and hours and at  www.mfa.go.th.  or inquire via email at consular05@mfa.go.th

Temporary Travel Document
In the case of a lost or expired passport. Then individuals may request a temporary travel document, also known as a Certificate of Identity (CI), for an urgent trip back to Thailand. To do so, they must follow certain procedures.
Firstly, a police report, known as a Lost Property Report, must be obtained in case of a lost passport. Then, the current passport must be presented, along with a color photograph (size 4 x 6 cm or passport size) with a straight face, without a hat or dark glasses, taken within the last 6 months and signed. Three copies of the photograph must also be provided. Additionally, the applicant must provide an ID card, birth certificate, or certificate of place of birth, and a copy of their house registration.
If the applicant is a minor (under 20 years old). Then their parents must provide consent and present their own documents. Likewise including a copy of their passport, ID card, or house registration. If an ID card is lost, any other government-issued evidence that includes a photograph showing the person's identity must be provided. Lastly, flight tickets must be presented.
There is no fee for the embassy in issuing temporary travel documents. However, it's important to note that these documents are only valid for 1 month and cannot be used to travel to third countries. They are issued only in lieu of a passport on the way back to Thailand. Note this cannot be used as a passport replacement. Therefore, individuals will need to apply for a new passport upon their return to Thailand.

When Passport is lost
In case your passport is lost, it is necessary to take certain steps to obtain a new one. Firstly, it is essential to report the loss to the local police. After obtaining the police report, you should visit the consular section of the embassy in person. If the report is in a local language, it must be translated into English and certified.
Apart from the police report, there are other documents that need to be submitted when applying for a new passport, including a copy of the lost passport, ID card, house registration, and marriage certificate in the case of married individuals. However, the embassy staff has the right to ask for additional documents not specified in this guide.
Whether a new passport will be issued or a Certificate of Identity that will only allow travel back to Thailand is at the embassy's discretion.
See also the Visa on arrival in Thailand as well as the Thai Consulate in Chengdu.

Incoming search terms: