The Thai embassy in Peru has only been around since 2006. At this embassy you can apply for a tourist visa, marriage visa if you have a Thai wife or a retirement visa if you are older than 50 years and can meet the financial requirements. The contact details and a map to the embassy has been listed below. The embassy is located in Lima the capital city. Call the embassy if you are in Peru and need to have more questions answered.
Note the the location of the Thai Embassy in Peru as it is located in a residential area of San Isidro. The map below shows that it is close to the Burger King in the area. You can also ask at the Embassy about registering a child born abroad so that you child will have Thai citizenship. You can also ask for assistance to obtain a new Thai passport or
Thai national ID card
for your Thai wife in Peru.
The Royal Thai Embassy : Peru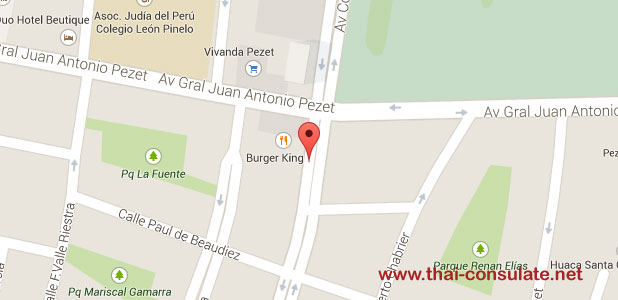 The Royal Thai Embassy in Peru
The Royal Thai Embassy in Peru
Coronel Portillo Avenue 678, San Isidro. Lima, Perú
Tel : (51) 1 - 637 5620 y 637 5621
Fax : (51) 1 - 638 4073
E-mail : thailim@mfa.go.th
Office Hours :
Monday to Friday : 09.00 – 12:30 & 14.00 – 17.00 hrs.