If you live in Hawaii then you can apply at the Thai Consulate in Honolulu for a Thai visa. You can seek advice and assistance with regards to a marriage visa, tourist visa, business visa or a retirement visa if you are over the age of 50. We have added a map and their contact details below such as their telephone number and email address.
Thai Consulate Hawaii
Note that this is an Honorary Consulate in the US. If you seek advice then you can email them or email the Thai Embassy in Washington for more information and assistance. The Honorary Consul-General is Ms. Maria D. Sariol.
The Thai Honorary Consulate serves a crucial purpose in promoting and facilitating various aspects of Thai affairs within its jurisdiction. Firstly, it functions as a point of contact and assistance for Thai nationals residing or visiting the area.
The consulate provides consular services, including passport and visa applications, as well as assistance during emergencies or unforeseen circumstances. Additionally, the consulate plays a pivotal role in enhancing bilateral relations between Thailand and the host country. It fosters cultural exchanges. Much like the Honorary Consulate in Florida.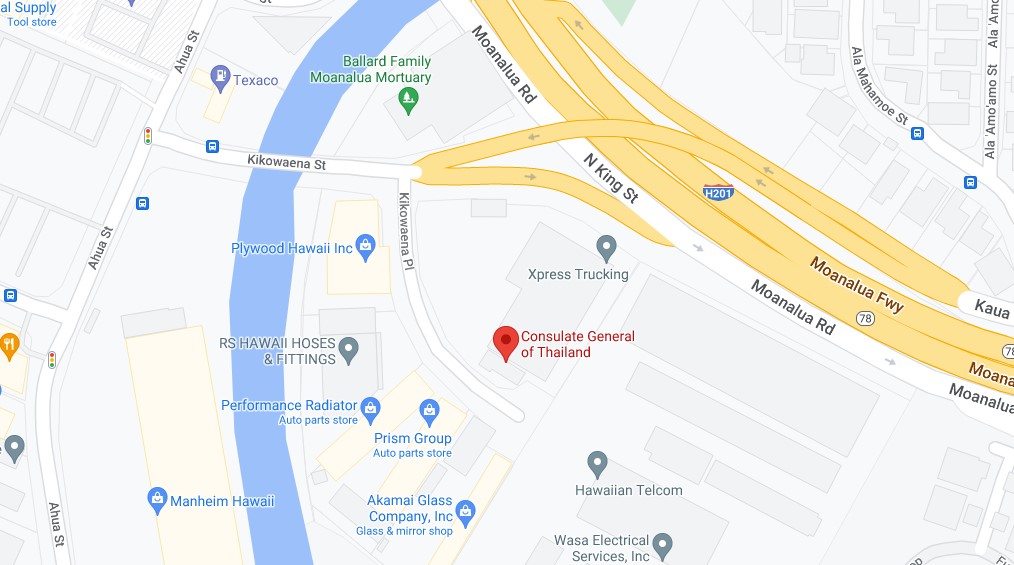 Thai Consulate Hawaii
1035 Kikowaena Place, Honolulu, HI 96819
Tel : (808) 524-7787 | Fax : (808) 523-0044
E-mail : cmiyabara@aol.com
Likewise also see the Royal Thai Embassy Washington and the Thai Consulate Dallas and the Tourist Visa for Thailand.

Incoming search terms: