If you are in Xiamen China then you will find the Thai Consulate in Xiamen listed below. We have added a map with their contact details such as their email, telephone numbers and email addresses. Note their office hours and that a Thai visa takes on average 5 days to issue. You can speak to the Thai Consulate about your visa options for Thailand. Note the Thai Embassy in Beijing is the only Embassy in China.
Thai Consulate in Xiamen
There are a number of Consulates in China, these include the Thai Consulate in Chengdu as well as the Thai Consulate in Shanghai. See each page and what type of Thai visa you can apply for or if you are a Thai national then a what type of consular assistance you can obtain.
You can also the the consular assistance listed below for Thai nationals. As for the visa applications, see the process that you will need to follow. This include the visa requirements. Also see the Google maps to the Consulate added below. You can search this website for more information for Chinese nationals visiting Thailand.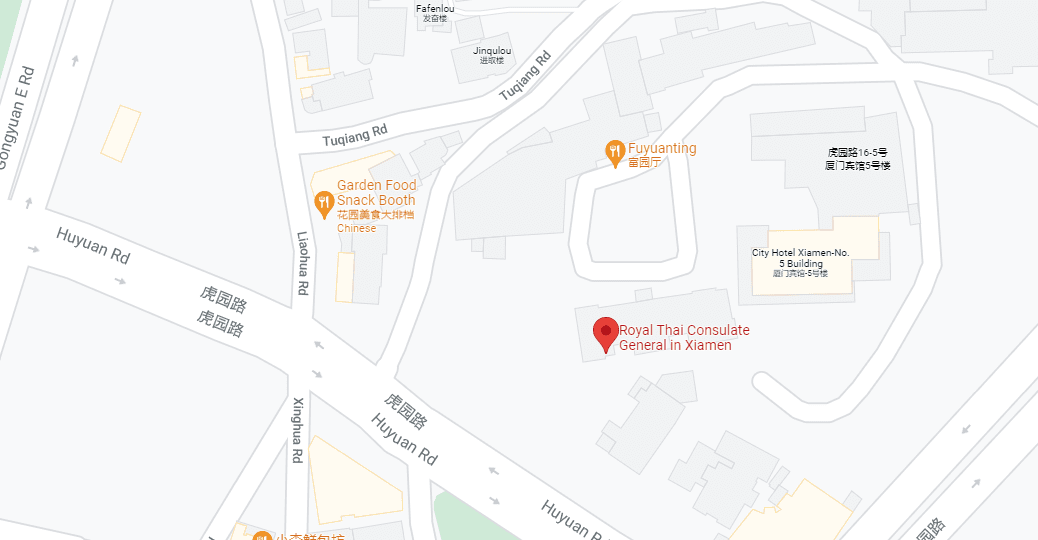 Thai Consulate in Xiamen
Street Address:
Building No.3, City Hotel Xiamen No. 16 Hu Yuan Road Xiamen Fujian, PRC. 361003
Telephone:
(86) 592- 202-7980
Fax:
(86-592) 205-8816
Email:
thaiconsulate.xmn@mfa.go.th
Business hours:
Monday to Friday 9.00 – 12.00 , 13.30 – 17.00 hrs.

Monday to Friday (Process Visa 5 working Days)

Apply Visa : 9.00 – 11.30 hrs.
Collect Visa : 13.30 -15.30 hrs.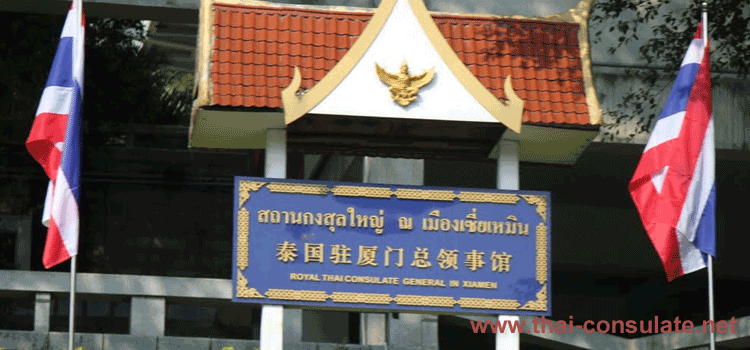 Thai Emergency Hotline : 181 5090 7662 
Thai ID Card Renewal
If you need to renew your Thai ID card in Xiamen then you can contact the Thai Consulate in Xiamen. You are going to have to call them to make an appointment. You will also need the following documents.
Your original Thai identity card;

Your original Thai passport;

Copy of your Tabian Baan; (Thai house registration)

Also the 5 Yuan fee
You can all the Consulate or the clerk at 131 7835 5499 in China. Remember that you can replace your Thai ID card if is is about to expire or if the card has been damaged. If you lost your card then you will need to report this to the local police. They will give you a case number and you will need this for the Thai Consulate for your new Thai ID card.
New Passport Application
You will need to make an appointment to get a new Thai passport. Before your Thai passport expires you should apply for a passport renewal. If you lost your passport you will need to ensure that you have reported the loss to the local police. When you apply for a new passport they will want the case number to show that the loss has been reported. The following documents are required for a new Thai passport. always renew your Thai passport at least 6 months before it expires.
Your old Thai passport about to expire;
Your Thai ID Card;
Currently the new passport  costs 350 Yuan. 
If you lost your passport. Report this to the local police. Take the notification receipt to the immigration office of the locality where you enter China. The Immigration Department will confirm your entry by issuing a notification voucher. Take this with you to the Embassy or Consulate.

Incoming search terms: