If you are getting a Thai visa in Laos then there are a few things to remember. Firstly this embassy does not issue multiple entry Thai visas. They will also check your passport to see how many Thai visas you have had before. If you hold a temporary passport the Embassy in Laos will only issue you with a transit visa. The contact numbers for the embassy has been listed below with a map to the embassy in Vientiane.
Note that the Thai Embassy in Laos will not issue a multiple entry visa. With regard to the issuing of a
tourist visa
they will only issue you a visa twice a year however they will first inspect your passport to see what you have been issued before. If you have had more than 2 tourist visas then they might deny you the visa. Marriage visas are also only single entry visas. They have also become very strict about this type of visa. Normally they will only issue you the single entry
marriage visa
twice much like the
Thai Embassy in Cambodia
where they count the amount of visas issued.  Note that there is also a 
Thai Consulate in Savannakhet
however the rules are also very strictly enforced there. The business visa for a work permit they will check again to see if you have been issued one before. Much like in Cambodia if you have abused the visa process they will simply not issue you with a visa and you would have to get a
visa on arrival
when entering Thailand.
Royal Thai Embassy in Laos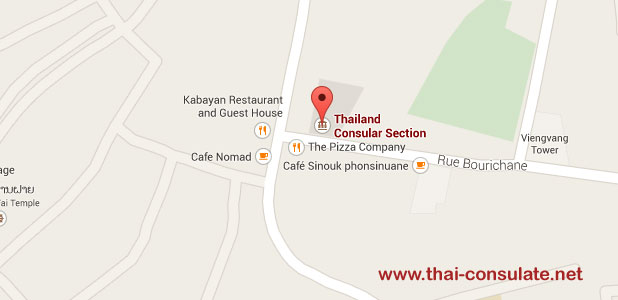 Thai Embassy in Laos
Thai Embassy in Laos
No.15 Ban Ponesinuan, Bourichane Road, Vientiane Capital
Consular - Rue Bourichane Vientiane
Tel : (+856) 21 453916 (between 13.30 - 16.30 hrs. only)
Email : thaivte@mfa.go.th
Monday to Friday
- Application for Visa : 08.30 Hrs. – 12.00 Hrs.
- Distribution of Passports Affixed with Appropriate Visa : 13.00 Hrs. – 15.00 Hrs. :
The Thai Embassy in Laos is located in Vientiane and is open from Monday to Friday. Visa application forms can be submitted from 8.30-12.00 hours only. Visa applicants will then only receive their passport back in the afternoon the following working day. The passport collection time is between 13.00-15.00 in the afternoon. The Consular section is across the road from the Pizza Company.
Incoming search terms: