The Royal Thai Embassy is located in Jakarta in Indonesia. If you are a Thai and in need of a new passport, register your baby born abroad then call the Thai Embassy in Jakarta. If you wish to apply for a Thai visa to visit Thailand then again contact the Thai embassy in Indonesia for more information about the requirements for the visa you are applying for. There are a number of visa options.
There is a
Thai "O" Visa
for marriage, "B" visa for business and also the
Thai "OA" Visa
for retirement. Call the embassy for more information. We have also placed a map for you to find the embassy. If you are considering retirement in Thailand and over the age of 50 then you can apply for a
retirement visa
while in Indonesia. You need to extend this visa in Thailand as the visa is only valid for 3 months when you enter Thailand. If you are just going on holiday then it is best to apply for a
tourist visa
before you visit Thailand. Speak to the staff at the Thai Embassy for more information and assistance before you visit Thailand.
Royal Thai Embassy in Jakarta – Indonesia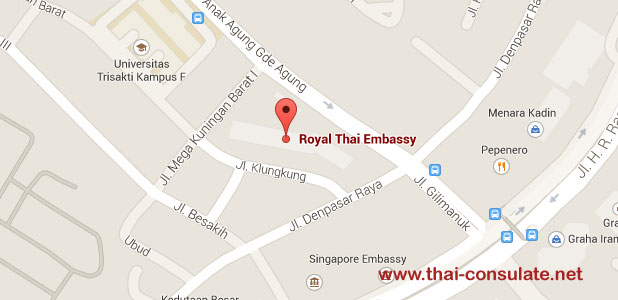 Thai Embassy in Indonesia
Thai Embassy in Indonesia
JI. DR Ide Anak Agung Gde Agung kav. NO. 3.3 (Lot 8.8), Kawasan Mega Kuningan, Jakarta
Tel : (62-21) 29328190 – 94
VoIP : 520500,520501,520502,520503,520504, 520505,520506,520507
Fax : (62-21) 2932-8199, 2932-8201,2932-8213
Email : thaijkt@biz.net.id
Incoming search terms: