There are a number of Thai embassies in the United States. The Royal Thai embassy in Washington is the most popular Thai embassy in the US with regards to a Thai visa. This embassy can issue you a marriage visa if you have a Thai wife, also called the Thai "O" visa. If you are going to do business in Thailand or work in Thailand then you need to have a business visa or Thai "B" visa for Thailand.
If you are simply visiting Thailand then you need to obtain a
tourist visa
which is valid for 2 months and can be extended in Thailand for an additional 30 days. The Thai embassy in Washington normally will issue a Thai visa in 2 business days and they do issue multiple entry visas if you have the needed documentation.
If you are older than 50 and meet the financial requirements thenyou can also apply for a retirement visa for Thailand. This is a 3 month visa which can be extended to 12 months inside Thailand at Thai immigration.
We have also listed other Honorary Thai Consuls in the United States below. There are a number of Thai Consulates located in the Untied States and they have also been listed.
Royal Thai Embassy in Washington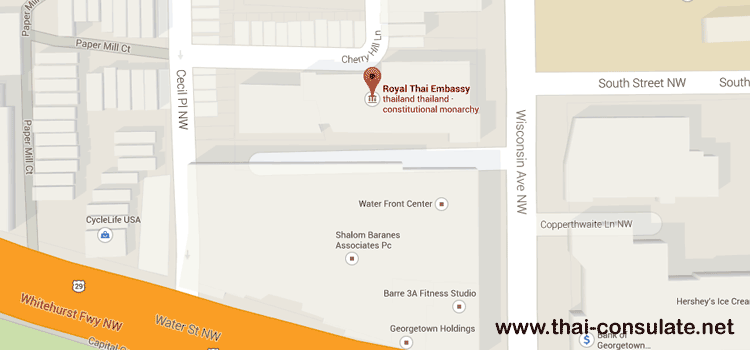 Royal Thai Embassy in Washington
Royal Thai Embassy in Washington
1024 Wisconsin Avenue, N.W., Suite 101Washington, D.C. 20007
Tel : (202) 944-3600
Fax : (202) 944-3641
Applying in person:-
Applications are usually processed within 2 business days from the time receipt
Applying by mail:-
Applications are usually processed approximately within 10 business days (not including mailing time)
Application receive:-
09:00am - 01:00pm Monday - Friday (except public holidays)
Applying by mail:-
Royal Thai Embassy Consular Section (visa) Rm.101 1024 Wisconsin Ave., N.W. Washington DC.20007
U.S. Postal mail entering The Royal Thai Embassy must go through a screening process which may delay the time in which we will receive the document
Royal Thai Consulates-General

Royal Thai Consulates-General (Honorary)
Thai Consulates in the USA
Thai Consulates in the USA
Thai Consulate in Alabama
P.O. BOX 4504, Montgomery, AL 36103-4504
Tel : (334) 293-4623
Fax : (334) 242-2888
Royal Thai Consulate in Colorado
1123 Auraria Parkway, Suite 200 Denver, Colorado 80204
Tel : (303) 892-0118
Fax : (303) 892-0119
Thai Consulate in Florida
2525 Ponce de Leon Boulevard, Suite 300, Coral Gables, Florida 33134
Telephone: 305-445-7577 ext 2
Toll free #: 888-336-3384
Facsimile: 305-974-1287
Thai Consulate in Georgia
303 Peachtree Street,N.E., SUITE 5300, Atlanta GA 30308
Tel : (404) 527-6778
Fax : (404) 527-4198
Thai Consulate in Louisiana
320 Julia Street,New Orleans, LA 70130
Tel : (504) 522-2021
Fax : (504) 523-1704
Thai Consulate in Massachusetts
41 Union Street, Boston, MA 02108
Tel : (617) 720-8424
Fax : (617) 227-2306
Thai Consulate in Oklahoma
25900 East 81th Street Broken Arrow, OK 74014
Tel : (918) 357-1368
Fax : (918) 357-1369
Thai Consulate in Puerto Rico
P.O. Box 7386, San Juan, PR 00916-7386
Tel : (787) 751-0151
Fax : (787) 753-7276
Thai Consulate in Utah
Administrative Office, 8th Ave. & C St. ,Salt Lake City, Utah 84143
Tel. 801-408-1901
Incoming search terms: