The Thai embassy in Japan has moved. The new address as from April 2013 will be as listed below. We have added a map and also the telephone numbers of the embassy. If you are going to visit Thailand then it is best to apply for a tourist visa or if you are going to business in Thailand then you will need a business visa. Retirement – well you can obtain a retirement visa in Japan at the Thai embassy.
There is a large expat community in Bangkok with many Japanese restaurants. If you are thinking of retirement in Thailand then consider a retirement visa you only need to be 50 years or older. Most Japanese in Bangkok can be found in the
Phra Khanong area
of Bangkok. There are currently just over 23,000 Japanese living in Bangkok. There are many large Japanese companies in Thailand such as Toyota and others. Speak to the embassy about investment in Thailand.
Royal Thai Embassy – Tokyo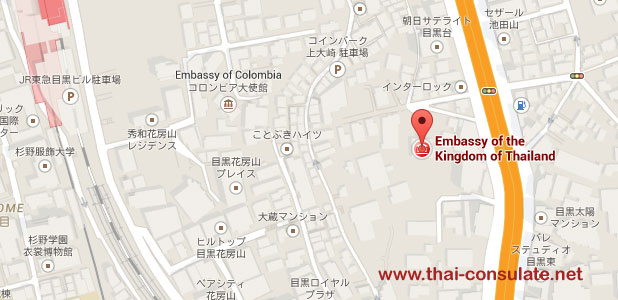 Thai Embassy in Japan
Thai Embassy in Japan
Address: 3-14-6, Kami-Osaki, Shinagawa-ku, Tokyo 141-0021
Tel : 03-5789-2433
Fax : 03-5789-2428
Consular Section
Tel : 03-5789-2449
Fax : 03-5789-2439
Email : infosect@thaiembassy.jp
Monday – Friday (excluding our holidays)
Section
Contact Hours
(Application / Collection)
Telephone
Enquiries
VISA
Application 09.00-11.45Collection (NOT on application date)13.30-15.00
16.30-17.30
Certification
09.00-11.45
15.30-17.30
Thai Passport
09.00-11.30 , 13.30-14.30
15.30-17.30
Registration
09.00-11.30 , 13.30-14.30
15.30-17.30
Birth Certificate
09.00-11.30 , 13.30-14.30
15.30-17.30
Incoming search terms: