The Thai Embassy in Kazakhstan is located in Astana in Kazakhstan. If you wish to work and live in the Kingdom of Thailand then speaking to the embassy staff will give you a good overview of the requirements for working and living in Thailand. There are a number of Thai Visas which you can apply for if you wish to visit Thailand or do business in Thailand.
Thai Embassy in Kazakhstan
Likewise if you are a Thai national you can also apply for a Thai passport at the Embassy or register your marriage or Thai baby born in Kazakhstan. Additionally you can also apply for a new Thai passport while in the country or apply for a new Thai ID card if you had lost yours. Additionally you can also ask about applying for a Thai Visa such as a marriage visa or a education visa in Thailand if you wish to study in Thailand. There are a number of options available to you.
Royal Thai Embassy in Kazakhstan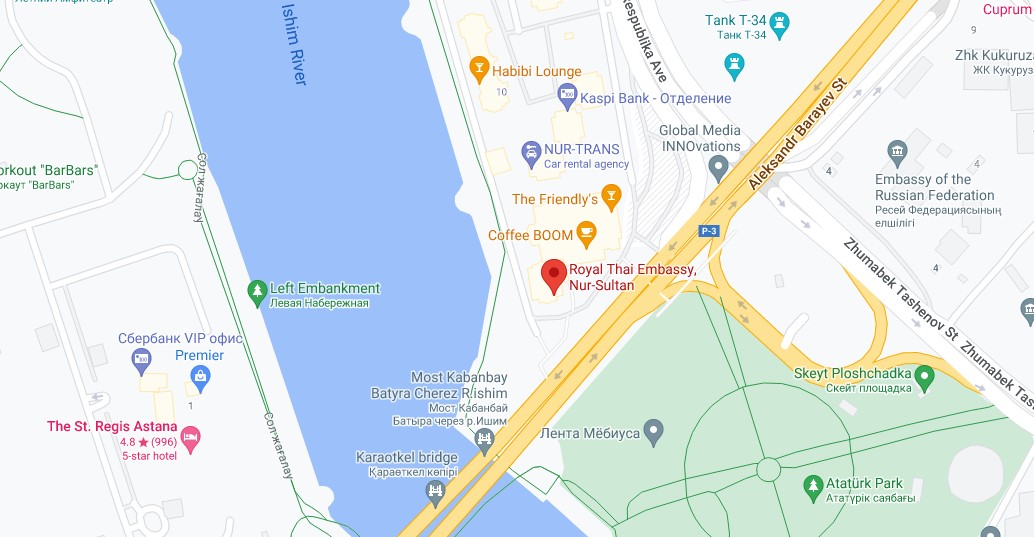 Royal Thai Embassy in Kazakhstan
16th Floor, Astana Tower Business Center
12, Samal microdistrict, Saryarkynskiy District, Nur-Sultan, Kazakhstan
Tel : +7-7172-79-77-53
Fax: +7-7172-79-77-60
Email : thaiembassy.tse@mfa.go.th
Email : consular.tse@mfa.go.th (for visa and consular issues)

Thai Tourist Visa
When it comes to visa requirements for entering Thailand for tourism purposes, there are three different types to keep in mind. The "TR" visa is intended for those who are interested in a single-entry visit, while the "METV" visa is designed for multiple-entry tourism trips. The "MT" visa, on the other hand, is specifically tailored to travelers seeking medical treatment in Thailand.
Likewise when applying for a "TR" visa, there are a variety of documents that must be submitted. Additionally these include a completed visa application form, a passport or travel document that is valid for at least six months. Additionally a recent photograph, proof of travel to and from Thailand.
Also evidence of hotel or accommodation bookings, proof of adequate finances, an employment letter, and insurance coverage. For those interested in a "METV" visa, the requirements are slightly different. Additionally including a minimum bank deposit, a travel itinerary, proof of full-time student status (if applicable). Also an employment letter. Finally, the "MT" visa application requires a letter from a hospital or medical facility in Thailand detailing the purpose and duration of treatment.
Likewise the visa processing fee for a "TR" visa is 40 USD for a single entry. Additionally while the fee for a "METV" visa is 200 USD. Regardless of which type of visa is obtained. The visa is valid for three months for a single-entry and six months for a multiple-entry. Upon arrival in Thailand, travelers will be permitted to stay for up to 60 days.
Likewise if travelers wish to stay longer than 60 days or change their visa type. Additionally they must file an application for permission with the Office of Immigration Bureau. Finally, it is important to note that certain nationalities are required to apply for a visa only at the Royal Thai Embassy in their home/residence country or at a designated Thai Embassy. To ensure a smooth visa application process. Likewise travelers are encouraged to contact their nearest Thai Embassy for more information.

Legalization
Likewise to submit an application for document legalisation, it is necessary to do so by hand to the Consular Section.
To ensure a smooth process, please prepare the following documents:1.) The original document(s) to be legalised, certified by the Ministry of Foreign Affairs of the Republic of Kazakhstan.2.) Additionally a copy of every single page of the document(s).

3.) Likewise a Legalisation Application Form and a copy of the applicant's passport for reference.

4.) Additionally a fee of 15 USD per document is required by cash.

5.) If the owner of the document is a juristic person, a requested letter signed by a Company's authorized officer is required. The said letter should be printed on Company letter-head with address and contact numbers. In the contents, a list of enclosed documents and purpose of usage should be stated.

Additionally it is important to note that the Royal Thai Embassy assumes no responsibility for the content of the documents submitted for legalization.

Applying for a new passport 
If you are a Thai national seeking to apply for a new passport at the Royal Thai Embassy in Astana, please follow these steps:
First, prepare the necessary evidence and fees for the application. Then, make an appointment with the consul during official days and hours. Please note that submitting biometrics will take approximately one hour.
To support your passport application, you will need to provide the following evidence: an old passport that is about to expire with one copy of the page with personal information, a Thai ID card with one copy, one set of house registration documents in Thailand, and a name-surname change certificate (if applicable). You will also need to pay a $35 fee.
It is important to keep in mind the following notes and details:
You can apply for a new passport up to six months before the expiration of your original passport.
A passport is valid for five years and cannot be amended to record any change of information.
You must submit your application in person so that your biometrics can be recorded in a computer database.
If the information in your original passport does not match your house registration information, such as your surname or date of birth, you must correct your house registration at a district office in Thailand before applying for a new passport.
Fees are non-refundable in any circumstance.
Regulations are subject to minor changes without prior notice.
If you want a record in your new passport that the visa in your old passport is still valid, you can request an endorsement for a fee of $5, but this depends on the country that issued the visa.
The application process for a new passport will take approximately two months.
Additionally there is the Thai Marriage Visa as well as the Thai Embassy in Bahrain and Thai Embassy Indonesia.