The Thai Embassy in Italy is located in Rome. The contact details for the embassy have been listed below. If you want to apply for a Thai visa in Italy then you can contact the Thai Embassy in Rome for information about a business visa, marriage visa if you are married to a Thai national or a retirement visa if you wish to retire in Thailand.
Thai Embassy in Italy
If you are a Thai the embassy can register your baby born in Italy or issue you a new Thai passport. The contact details and a map to the embassy has been listed below. There is a large expat community in Thailand and if you are over the age of 50 then you can consider retirement in Thailand. If you are married to a Thai national and you have registered your marriage then you can also apply for a Thai "O" visa while in Italy. Tourism has also increased and even though Italians can get a visa on arrival it is always best to obtain a proper visa before you visit Thailand.
If you are interested in study in Thailand then you can also apply for an Education visa in Ital for Thailand. This visa needs to be renewed each year with the results from your school or university attached to it for the renewal to take place.
Thai Embassy in Rome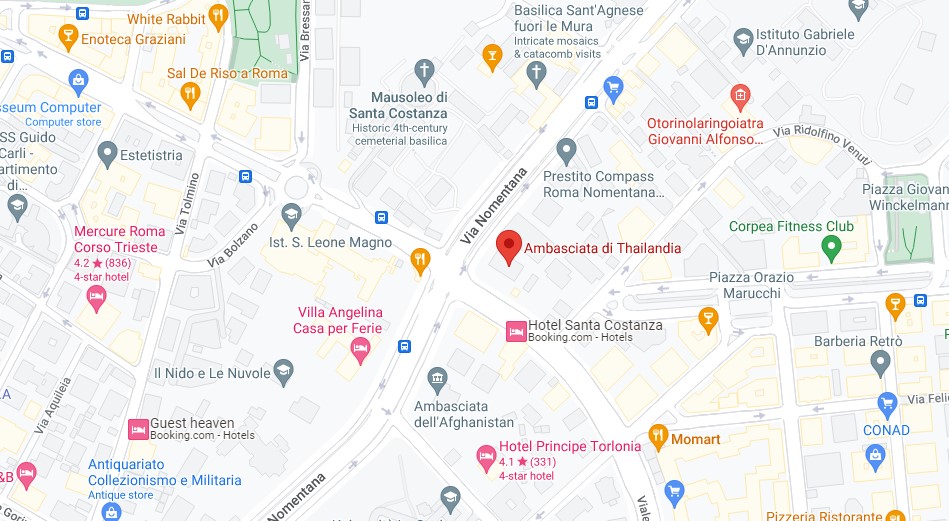 Thai Embassy in Italy
Via Nomentana 132, Rome, 00162
Tel. +39 (0) 6 8622 0526, +39 (0) 6 8622 0527, +39 (0) 6 8622 0530
Fax +39 (0) 6 8622 0529
The Consular Section, Royal Thai Embassy, opens from Monday – Friday (except the Embassy's holidays) from 09.30 – 12.30 hrs.
Applications and other services, from 12.00 – 13.00 hrs.
Collection of passports and documents from 14.30 – 17.00 hrs. for information by phone only.

Marriage registration under Italian law
In the case of a Thai man or woman residing in Italy and wishing to marry an Italian man or woman. There are certain steps that need to be followed. Firstly, Thai men or women must obtain a Certificate of Qualifications for Marriage (*Nulla Osta) from the Royal Thai Embassy. This must be submitted to the district where the spouse will register the marriage under Italian law. Once this is done. The *Nulla Osta document must be brought to the embassy and issued to certify the signature of the consular officer at the Prefettura of the locality where the marriage will take place, before registering the marriage at that district.
To fulfill these requirements. Certain documents are necessary. For a female or male who is a person of Thai nationality, the following documents are required. Likewise a Certificate of celibacy issued by the district where the applicant is domiciled, an original birth certificate or birth certificate. This which indicates the date of birth, place of birth, along with the names of fathers and mothers, passport, and a copy of house registration. Additionally in the case of previously married and divorced and wanting to remarry. Additionally the individual must have been divorced with the former spouse for at least 310 days. This must have the original divorce certificate or divorce registration presented, along with 1 photo size 2 inches.
Documents needed
Firstly for women or men who are Italian citizens. Likewise the following documents are required: passport, Italian ID card, an original Certificate of Status (Stato Libero). Additionally ready to be certified at the Prefettura before applying for Nulla Osta at the Embassy. Secondly this and a work certificate from employer. For individuals with private occupations, a commercial registration certificate must be presented, along with 1 photo size 2 inches.
Processing time
Likewise the processing time after receiving complete documents is approximately 3 working day. Then the embassy can send Nulla Osta back to the applicant by post, with an additional postage charge. It is important to note. That if a Thai person does not have a residence permit or Permesso di Soggiorno in Italy. Likewise if a Thai person enters Italy using a tourist visa and wishes to marry an Italian or a foreigner in Italy. Lastly they must contact the embassy. This for more information and documents at +39 06 8622 0530 from 2:30 p.m. – 5:00 p.m.

Register a Birth in Italy
If you have children born in Italy, San Marino, Albania, or Cyprus, they are entitled to Thai citizenship according to their parents. Likewise to obtain a Thai birth certificate, you can report your child's birth at the Royal Thai Embassy in Rome. Once you receive the Thai birth certificate, you can apply for a Thai passport.
Likewise to apply for a birth certificate. You will need to bring the child's birth certificate issued by the hospital or district, a picture of the child, a marriage certificate (if applicable), copies of Thai and Italian/San Marino/Albanian/Cypriot house registrations. Additionally important documents for the identity of the father and mother such as ID cards and passports, a name-surname change certificate (if applicable), and residence documents in Italy, San Marino, Albania, and Cyprus. You must also fill in the birth registration application form with complete details.
Likewise the birth certificate is free of charge (excluding postage). Additionally it takes between 5-7 business days (excluding postage time) depending on the completeness of the documents. To submit a birth registration request

Birth Registration Document
See Online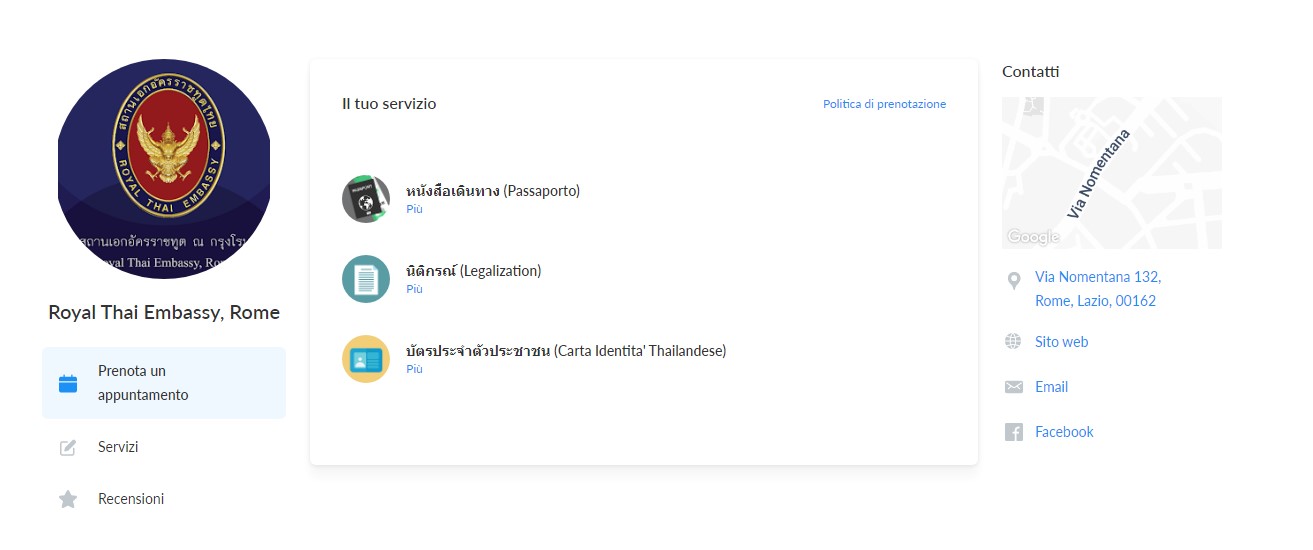 Thai ID Card
To renew an ID card for Thai citizens residing in Italy who have lost, damaged or expired their original card, they must personally visit the Royal Thai Embassy in Rome. This is because the embassy requires biometric data such as fingerprints and photos to be collected.
Likewise the following documents are required: the current Thai ID card (unless lost), Italian residency card or official documents that show residence in Italy or its territories, and other documents with a photo that can verify identity. It is important to note that the embassy does not offer ID card issuing services for those applying for the first time, individuals with names listed in the middle house register, those without a 13-digit identification number, or people who are duplicate entries that do not match the Ministry of Interior's civil registration database.
Additionally, those wanting to change their name, surname, title or other information. This not matching the civil registration database are also ineligible. The embassy does not charge a fee for renewing an ID card. Only if the original card has expired or has less than 60

Royal Thai Honorary Consulates
Mr. Franco Novi
Royal Thai Honorary Consulate-General, Genoa
Via alla Porta degli Archi 10 int 5D
126121 Genoa
Tel.: +39 010 0984416
Email: genova@consolatothailandia.com
Mr Alberto Virgilio
Royal Thai Honorary Consulate-General, Milan
Viale Berengario 15
20149 Milan
Tel.: +39 02 460299
Mobile: +39 340 758 0679
E-mail: royalthaicongenmilan@libero.it
Mr. Mario Mattioli
Royal Thai Honorary Consulate-General, Naples
Via Riviera di Chiaia 287
80121 Naples
Tel.: +39 081 9637170
E-mail: thai.consulate.naples@scini.com
Mr. Andrea Marcon
Royal Thai Honorary Consulate, Venice Triveneto Region
Sestriere San Marco 1808
30124 Venice
Tel.: +39 041 2412370
Mobile: +39 3297322258
E-mail: consolato@consolatotailandia.it
Mr. Elias Panayides
Royal Thai Honorary Consulate-General, Nicosia, Cyprus
40 Evagoras Avenue, Flat No. 3, 1st Floor
1097 Nicosia
Tel.: +357 22674 900, 22676 666
Fax: +357 22 675 544
E-mail: thaicon@cytanet.com.cy

Applying for e-Visa
The Royal Thai Embassy in Rome has introduced a new e-Visa application process, which requires applicants to submit their documents online through the official website https://thaievisa.go.th. It is important to note that the embassy has no control over the fees charged by any third-party services. The visa processing time takes 7 working days, but may take up to 14 working days during the high season.
To ensure a smooth and stress-free application process, applicants are encouraged to apply for the visa at least 15 days before their expected arrival date in Thailand. However, it is not advisable to apply for a visa earlier than 3 months (90 days) before the arrival date.
Applicants should also take care to avoid common mistakes that could lead to the rejection or cancellation of their application, as visa processing fees will not be refunded in any case. Please be aware that the embassy cannot make any changes to your personal details on your behalf.
See also the Thai Consulate in New South Wales as well as the Thai Embassy in Bahrain and the Royal Thai Embassy Russia.

Incoming search terms: