The contact details and location for the Thai Consulate in New York city has been listed below. Note that each consulate only does certain regions as has been listed below. If you live on the West Coast then you need to contact the Thai Embassy in Los Angeles for assistance.
The Thai Embassy in New York city can issue you a Thai visa. This can be a
marriage visa
,
retirement visa
or a business visa for Thailand. Note that the following documents will be needed:
The Following documents must be prepared for all types of visa application.
Employees to present company work certificate (Business card is not acceptable)
Self-employed applicants must present business registration/license.
Students must present a letter of enrollment from university or a valid student ID
Pensioners must present a bank statement or pension fund.
Note that in order to retire in Thailand you need to meet the financial requirements as well as pass a medical exam and be over the age of 50 when you apply. For the marriage visa you only need to meet the financial requirements of the visa. For he Education visa you need to have all the documents from your Thai college or university in order for the visa to be issued.
If you want to register a Thai baby born abroad or want to apply for a new Thai ID card or Thai passport then you can also contact the Embassy. You can also register your marriage in the US with the Thai government so that it makes it easier later to apply for the marriage visa for Thailand.
Royal Thai Consulate General New York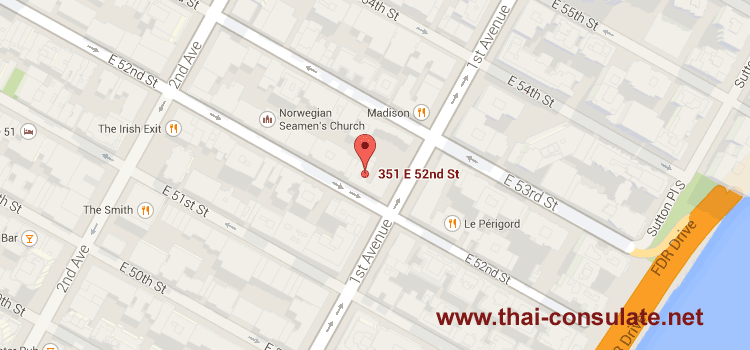 Royal Thai Consulate General New York
Royal Thai Consulate General New York
351East 52nd Street, New York, NY 10022
Tel : (212) 754-1770 (Consular Section)
Tel : (212) 754-2536 /(212) 754-2538
Fax : (212) 754-1907
Email : info@thaicgny.com
Office Hours
Monday - Friday (except official holidays)
From 9:00 am - 12:30 pm and 1:30 pm - 5:00 pm
Service Hours
Visa : Tel.(212) 754-1770 Ext. 303
Submission : 9:00 am-12:30 pm
Collection : 1:30 pm-3:30 pm (next day)
Passport : Tel.(212) 754-1770 Ext. 301
From 9:00 am-12:30 pm and 1:30 pm-4:30 pm
Legalization : Tel.(212) 754-1770 Ext. 302
From 9:00 am-12:30 pm and 1:30 pm-4:30 pm
Thai I.D. card : Tel.(212) 754-1770 Ext. 300
From 9:00 am-12:30 pm and 1:30 pm-4:30 pm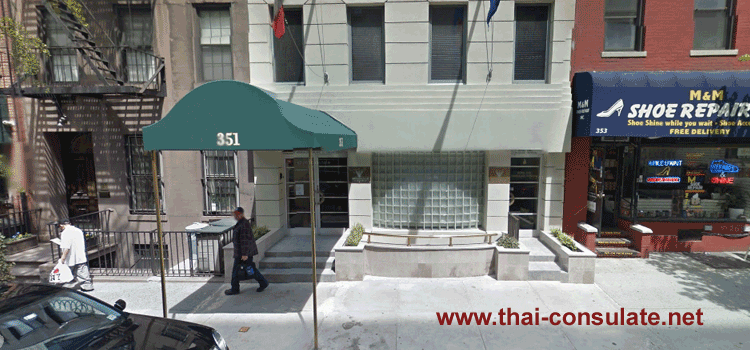 Incoming search terms: