The Royal Thai Embassy Kathmandu in Nepal is located in Kathmandu close to the Australian Embassy in Kathmandu. If you are looking at visiting Thailand then you will need a visa such as a tourist visa, marriage visa, educational visa or a business visa. Speak to the staff at the Thai Embassy about what else would bee needed. The tourist visa is the most basic visa and will be issued with minimal documents. The map to the embassy and the operating hours have been listed below.
Royal Thai Embassy, Kathmandu
The Royal Thai Embassy in Kathmandu is the official diplomatic mission of the Kingdom of Thailand in Nepal. Located in the Lazimpat neighborhood of the city, the embassy provides consular services to Thai citizens residing or visiting Nepal, as well as assistance to Nepali citizens interested in traveling to Thailand. See also the Thai Embassy in United Arab Emirates on this website.
The embassy works to enhance the relationship between Thailand and Nepal, focusing on areas such as trade, investment, tourism, and cultural exchange. In addition, the embassy also provides information and support to those interested in learning about Thai culture, language, and tourism. With a team of dedicated staff, they serve as a vital link between Thailand and Nepal, promoting mutual understanding and cooperation for the benefit of both nations.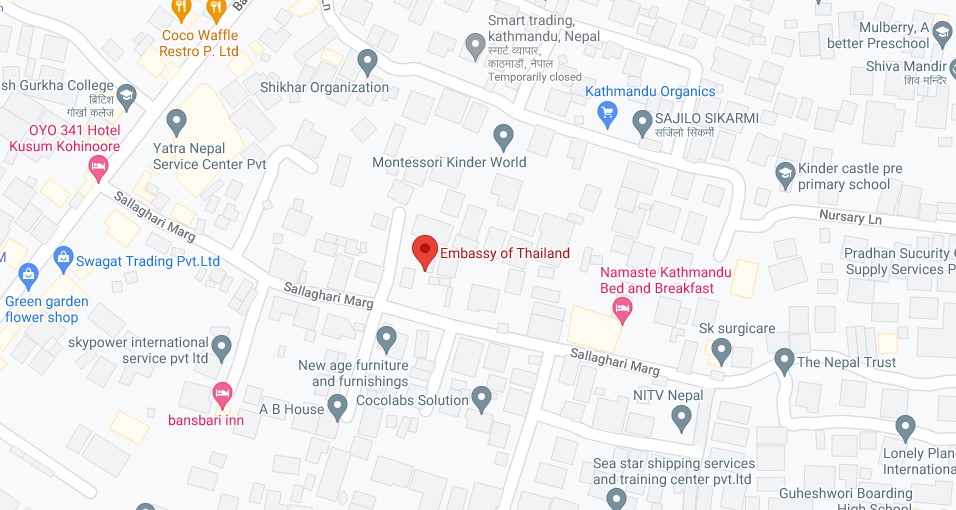 Royal Thai Embassy, Kathmandu
167/4 Ward No. 3, Maharajgunj, Bansbari Road, Kathmandu, Nepal
Tel : (977 1) 4371410, 4371411
Fax : (977 1) 4371408, 4371409
E-mail : thaiemb@thaiembnepal.org.np
Consular Hours : (Monday - Friday)
- 09:30-12:00 (Application Submission)
- 14:00-16:00 (Passport Collection)
You can also find the Swedish Letter of Affirmation as well as the Australian Letter of Affirmation on here.

Incoming search terms: