Note that this is the Thai Consulate in Vancouver Canada and you can apply for a visa with the Consulate. You can apply for a tourist visa or a retirement visa if you are over 50 and can meet the requirements. You can also apply for a Thai "O" Visa if you are married to a Thai national. There is also an Educational Visa for Thailand if you wish to study in Thailand.
Note that there is a
Thai Embassy in Ottawa
if you are close to them than Vancouver. You can also register a marriage at the Consulate as well as register a birth and apply for a new Thai passport or
Thai national ID card
. Your wife can also apply for a
Thai birth certificate
as well as a Thai death certificate at the Consulate. Note that the Consulate in Vancouver had moved over the past 3 years so the new address has been listed at the bottom with a map and contact details of the Consulate.
Thai Consulate in Vancouver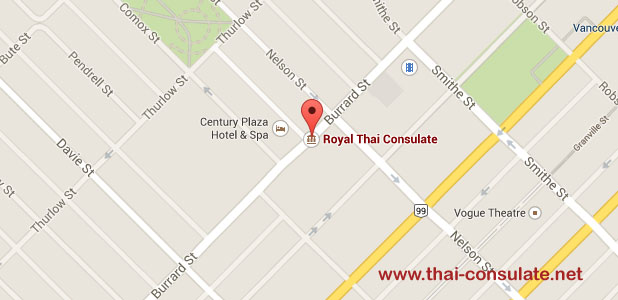 Royal Thai Consulate-General, Vancouver
Royal Thai Consulate-General, Vancouver
1040 Burrard Street, Vancouver BC V6Z 2R9
Tel : 604-687-1143
Fax : 604-687-4434
Email : info@thaiconsulatevancouver.ca
Embassy Office Hours:
Date: Monday – Friday (please check holiday)
Office Hours: 9:00 hrs. – 12:30 hrs. and 13:30 hrs. – 17:00 hrs.
Lunch Break: 12.30 hrs. – 13.30 hrs.
Visa drop-off and pick-up: from 9:30 hrs. to 12:30 hrs. only.
Incoming search terms: