Brussels is where the Thai Embassy in Belgium is located. The embassy in Brussels will be able to issue you a Thai visa if you wish to visit Thailand. Depending on what you wish to do in Thailand there is the option of a tourist visa for tourism. This allows you to stay in Thailand for 2 months. There is also an "O" visa or marriage visa if you have a Thai wife and there is also a business visa if you are going to be working in Thailand or conducting business.
Thai Embassy in Belgium
Finally there is a "OA" visa which is a retirement visa for those who wish to retire in Thailand and are over the age of 50. The contact details for the Thai embassy in Belgium is listed below with a map to the embassy.
Likewise the Royal Thai Embassy in Belgium is the diplomatic mission of the Kingdom of Thailand to the Kingdom of Belgium. This as well as the Grand Duchy of Luxembourg. Located in the capital city of Brussels. The embassy is responsible for promoting and protecting Thailand's interests in Belgium and Luxembourg. Additionally as providing consular services to Thai citizens residing or visiting the two countries.
Additionally the Thai embassy offers a range of services. You can see this listed below. Likewise including visa applications, passport renewals, consular registration, birth and marriage registrations as well as legalization of documents. Note that it is also there for the assistance for Thai citizens in emergency situations. The embassy also plays an important role in promoting Thai culture and cuisine. Both in Belgium and Luxembourg, through various cultural events and activities.
Overall, the Royal Thai Embassy in Belgium is an essential diplomatic mission that helps strengthen ties between Thailand and Belgium and Luxembourg, while providing valuable services to Thai citizens in the region. Likewise see also the Thai Embassy in Singapore as well as the Royal Thai Embassy Washington on here.
Royal Thai Embassy Belgium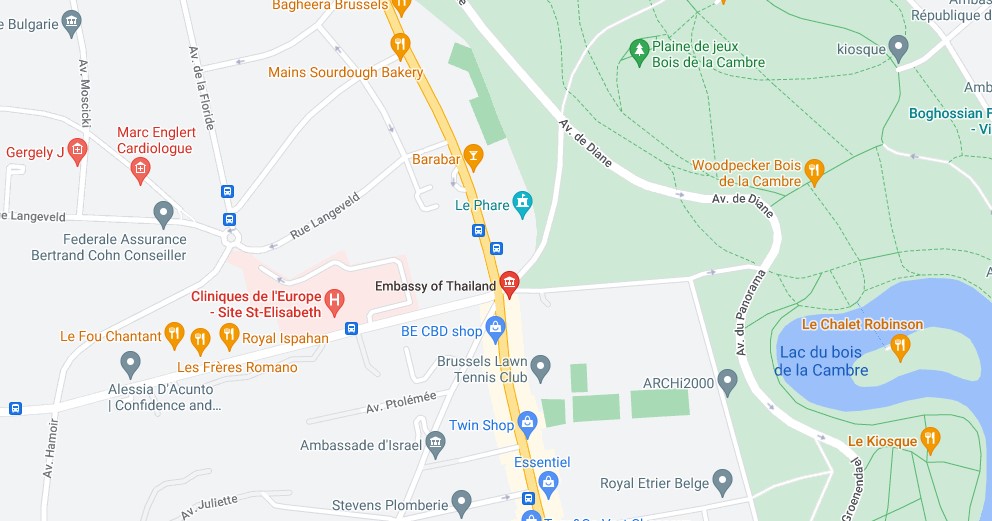 Thai Embassy in Belgium
876 Chaussee de Waterloo, 1000, Bruxelles, Belgium
Tel: (+32) 2 640.68.10
Fax: (+32) 2 648.30.66
Consular information via email:
For questions about Thailand visas Please contact e-mail visa.brs@mfa.go.th
For questions about passports and Thai ID cards, please email passport.brs@mfa.go.th
For legal questions contact e-mail consular.brs@mfa.mail.go.th
Every Monday to Friday Except public holidays ( public holidays 2022 )
Visa checks:
Accepting Thai visa applications from 9:30 a.m. to 12:00 p.m. only.
Certification of documents for Thai registration and Thai passport
Accepting applications from 9:30 a.m. – 12:00 p.m. and 2:00 p.m. – 3:00 p.m.
Inquiries by telephone
from 3:00 p.m. to 5:00 p.m. daily
at the telephone number +32 (0) 2 640 68 10.
By public transport to the Embassy
Direction 1 – Bus 38 (De Brouckere-Heros/Helden) to Floride/Florida (on Avenue de Fre).
Method 2 – Bus 41 (Transvaal-Heros/Helden) to Hospital
Sainte-Elisabeth/Sint Elizabeth-ziekenhuis (on Avenue
De Fre) or Vert Chasseur/Groene Jager (on Chaussee de Waterloo, near supermarkets). Thai 'TOP'
Method 3 – Bus number 136, get off at Vert Chasseur
(on Chaussee de Waterloo, near the Thai supermarket 'TOP').
Route 4 – Bus 137 to Vert Chasseur
(on Chaussee de Waterloo near the Thai supermarket 'TOP')
Route 5 – Bus 365 to the Vert Chasseur stop
(on Chaussee de Waterloo near the Thai supermarket 'TOP').
Method 6 – Traveling by Tram 4,92,97 to the tram stop 'Marlow'
and transfer to bus 41 at the Heros/Helden bus stop (Avenue de Fre)
and get off at the stop following Method 2.

Honorary Consulates
Royal Thai Consulate, Antwerp
Working hours:
Monday: 08.45 – 12.30 hrs. and 13.30 – 16.00 hours.
Tuesday: 08.45 – 12.30 hrs.
Wednesday: 08.45 – 12.30 hrs.
Thursday: 08.45 – 12.30 hrs.
Friday: 08.45 – 12.30 hours. and 13.30 – 15.00 hours.
Address: Onze-Lieve-Vrouwstraat 6, B-2600 Antwerpen (Berchem)
Tel: +32 0495/22.99.00 Fax +32 03/218.72.94
Web Site: http://www.thaiconsulate.be
Email address: royalthaiconsulateantwerp@skynet.be

Royal Thai Consulate, Liege
Address: Rue Cote d'Or, 274,B-4000 Liege, Belgium
Tel: +32 0425/44.86.0 Fax +32 04/254.24.15

Royal Thai Consulate, Luxembourg
Address: 41A, Avenue JF Kennedy L-2082 Luxembourg
Tel: +35 2407/87.81 Fax +35 240.78.04
Email address: Francois.Kremer@arendt.com

Thai Visa Service
The Royal Thai Embassy in Brussels would like to announce that from 22 November 2022. Foreigners residing in Belgium and Luxembourg who want to apply for a visa (visa) to travel to Thailand. Likewise you must now apply online with an (E-Visa) at https://www.thaievisa.go.th.
After the e-Visa has been approved, a confirmation e-mail will be sent to the applicant. Please print out the confirmation document received by such e-mail. To be shown to airlines and Thai immigration officials for inspection when traveling to Thailand. See also the visa on arrival.

Thai Passport
Likewise to apply for a passport, the applicant must do so personally. Once the application is submitted, the passports will be produced at the Department of Consular Affairs in Bangkok. The delivery to the embassy takes about 4-6 weeks, so it's important to factor this into your plans. To obtain a normal passport for an adult (aged 20 years or older), supporting documents are required.
These include a completed passport request form, a confirmation letter form, a current passport and a photocopy of it, the original Thai ID card and a copy, a copy of the Thai house registration, and a passport photo. The fee for a five-year passport is 35 euros, while a ten-year passport costs 50 euros. If the passport has been lost, a police report must be provided. Other related documents such as name change certificates may also be required.
Minor Children
Additionally for a minor under the age of 20, the supporting documents required for a normal passport are similar to those for adults. However, a copy of the Thai birth certificate, the marriage certificate of the parents or documents showing relationship and parental authority, the original ID cards and copies of both parents, and a copy of the Thai house registration are also necessary. The fee for a five-year passport for minors is 35 euros. It's important to note that minors cannot apply for a ten-year passport. Further details and conditions for issuing passports can be found in the table below.
Download
Note: The form can be obtained at the embassy.
Likewise see the Thai Embassy in Brunei and the Thai Embassy in Dhaka. Additionally there is also the Thai Embassy in Argentina.

Thai ID card
Applying for an ID card abroad is a right that any person has, but there are certain requirements that must be met. Firstly, the applicant must have had a Thai ID card before, which may have expired or may be lost, destroyed or damaged. In case of a lost card, the applicant must bring a police report clearly stating "Lost Thai ID card". Additionally, the applicant must be a resident in Belgium and Luxembourg only. It is also worth noting that the applicant can make an ID card up to 60 days in advance.
Note to apply for an ID card renewal, certain documents must be presented. Additionally these include a completed ID card request form, the current Thai ID card. Likewise along with one copy to be returned to the embassy, a residence card in Belgium or Luxembourg along with house number/address information and one copy. In addition, a copy of the Thai passport, a copy of the Thai house registration. Moreover copies of the Thai marriage certificate and spouse's Thai death certificate if applicable.
It is important to note that the embassy Thai ID card issuance service is not available to those who have the first card, those whose names are in the central household register, those who do not have a 13-digit ID number, those who are duplicates or whose information does not match the civil registration base of the Ministry of Interior, and those who want to change their name-surname or title, which does not match the current information in the civil registration base. These people must contact the district/district office in Thailand to apply for a card. See also the Thai Consulate in New South Wales and Thai Embassy in Bahrain.

  Thai ID request form

Applying for a Thai birth certificate
Firstly, an application form for birth registration can be downloaded.
Secondly, a birth certificate is necessary, which can be an international convention certificate with four languages or a birth certificate in the local language that has been translated into Thai or English by a sworn translator. The certificate must also be certified by the relevant Ministry of Foreign Affairs.
Thirdly, if the child was born to parents who got married in Thailand, a copy of the marriage certificate should be presented. If the marriage was conducted in another country, the certificate must be translated into English or Thai and legalized through the relevant embassies.
Fourthly, a copy of each parent's ID card and passport is required, along with a copy of the Thai house registration of the parent who has Thai nationality.
Fifthly, the child's Belgian identity card or passport, along with the house registration in Belgium, should be presented.
Sixthly, a copy of evidence from the hospital indicating the name of the hospital where the child was born, the time of birth, and the weight at birth is required.
Finally, if the child is reporting birth over 10 years old, there must be a picture of the child from all periods up to the present.
Note that documents 1 and 2 do not need to be translated if it is an international certificate with English, but if it is in a local language such as Dutch or French, it must be translated into Thai. Additionally, both documents 1 and 2 must be certified at the Ministry of Foreign Affairs of Belgium or Luxembourg.

Applying for a Birth Certificate

Marriage Registration
When registering a marriage at the embassy, it is important to note that it is only considered valid under Thai law and not under Belgian law. To ensure validity under Belgian law, registration must be made at the local Belgian registry office.
To apply for registration, an appointment must be made at least 7 working days in advance, and all supporting documents must be sent to the staff beforehand for inspection and preparation of relevant documents. Additionally, there is no fee for marriage registration.
Supporting evidence for the request for marriage registration includes the application for marriage registration and the marriage registration memorandum, which must be filled out and signed by the spouse. The spouse's valid passport, ID card, and a copy of their house registration must also be provided. In cases where the marriage was previously registered and divorced, a copy of the divorce certificate must be presented.
On the day of marriage registration, it is required to bring two witnesses along with their passport/ID card and a copy of their house registration. Furthermore, a single certificate of both spouses is needed for Thai people, which can be obtained at the district office or district office in Thailand, and is used for marriage registration at the embassy. Likewise see the Royal Thai Embassy in Peru.

Incoming search terms: