Abuja is where the Royal Thai Embassy in Nigeria is located. If you wish to visit Thailand you will need to have a Thai visa as a Nigerian. This can be a tourist visa, marriage visa, business visa or a sports visa which many in Nigeria obtain to teach soccer/football skills in Thailand. Speak to the staff at the embassy as to the requirements for each visa. If you are a Thai and need a new passport or other consular service then contact the embassy on the contact numbers listed below.
If you need more information and assistance such as
birth registration
or applying for a new Thai passport then contact the Embassy as listed below. You can also
register your marriage
at the Embassy.
Royal Thai Embassy Nigeria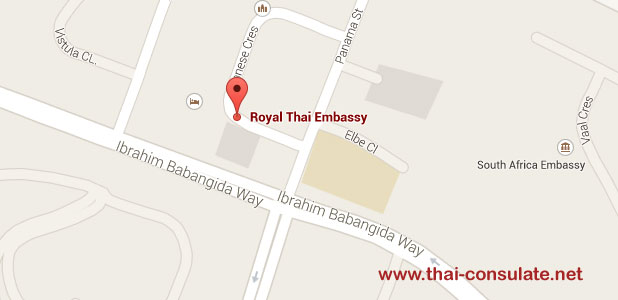 Royal Thai Embassy in Nigeria
Royal Thai Embassy in Nigeria
24 Tennesse Crescent, Off Panama Street, Maitama, Abjua, Nigeria
Working hrs : 8.30 AM -16.30 PM
Visa working hrs:
Submit application : Mon-Fri 9.00-12.00
Collection of Visa : Mon-Fri 14.00-15.00
Email : thaiabj@mfa.go.th
Consular Section Tel : (+234) 706 308 0403
Incoming search terms: