This is the Thai Embassy in Dhaka. The Royal Thai Embassy in Bangladesh is located in Dhaka close to the Natun Bazaar. If you wish to apply for a Thai Visa then the embassy in Dhaka will be able to assist you in this regard. Note that there is no visa on arrival for citizens or Bangladesh so you need to have a tourist visa before you arrive in Thailand. The contact numbers and also the map to the Thai embassy in Dhaka is listed below with tier office hours. If you are married to a Thai national and you have done your marriage registration then you can also apply for a marriage visa for Thailand.
Thai Embassy in Dhaka
Note that the Embassy is close to the US Embassy in Dhaka as well as the Canadian High Commission in Dhaka. If you can find one then you can find the Thai Embassy as well. If you are living in Bangladesh then you can ask the Thai Embassy with assistance to register a marriage as well as register a birth abroad. They can also assist with your Thai wife apply for a new Thai passport or Thai ID card.
Thai Embassy Bangladesh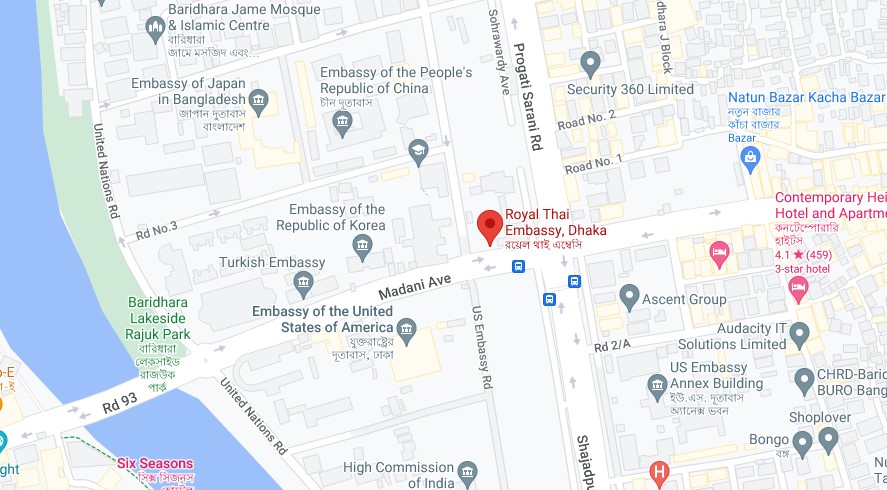 Thai Embassy in Dhaka
18 & 20, Madani Avenue Baridhara, Dhaka-1212
Tel: +880-2 58813260, +880-2 222264277, +880-2 222264279, +880-2 222264281
Fax: (880 2) 985 4280
E-mail: thaiembassy.dac@mfa.go.th
E-mail: visa.dac@mfa.go.th (visa general enquiries)
VISA INQUIRY (+880 18) 8220 8943
Office Hours : Sunday-Thursday, 09.00-13.00 hrs. / 14.00-17.00 hrs.
Thai Visa: 8.30-12.00 hrs ~ 13.30-15.30 hrs.
Legalization: 8.30-12.00 hrs ~ 13.30-17.00 hrs

 Mandatory Requirements for the Thai Visa application
Firstly all information provided in the application form must be accurate, and the form duly signed. Moreover, the signature must match with the signature in the current passport.
Secondly it is important to specify the purpose of visit and visa category required in the application form.
In addition, an active contact number, an alternative phone number, and an active number of local guarantor must be provided. Travel agents' phone number cannot stand in as local guarantors.
The applicant should clearly mention occupation details in the visa application form. Furthermore, the workplace's phone number must be mentioned in the official covering letter.
All photocopies must be signed by the applicant as "Certified true copy".
An affidavit is required for major name corrections.
Lastly for documents in other foreign languages (including Bangla) must be translated into English. These documents shall be certified by a credible translator and a notary public e.g., National ID Card, Nikah Nama, Government order etc.
Finances
Firstly it's important to note that only original Bank Statement and Bank Solvency Letter are acceptable. Sufficient funds (BDT 60,000 for individual and BDT 1,20,000 for family) should be available in the bank till the processed passport is returned. Loan, FDR account, and DPS accounts will NOT be accepted.
Secondly for foreign passports, work document from local office in Bangladesh is required (if applicable). In case the applicant does not have a local bank account in Bangladesh, the applicant must submit the Letter of Salary Guarantee issued by the Bangladeshi company.
The first applicant can sponsor immediate family members only, namely 1) parents 2) spouse 3) children. Copies of documents of the first applicant including a Sponsorship Letter, Bank Statement, Bank Solvency Certificate, Marriage Certificate, and/or Proof of Relationship Certificate are required.
For foreign passports that do not mention parents' names, birth certificates of minors are required.
International health card's copy for yellow fever infected countries applicant is mandatory (if applicable).
Parental consent letter is mandatory if the applicant is under 18.
All business owners must submit updated trade licenses. Furthermore, in the case of documentation in any language apart from English, the same must be translated to English by a certified translator and duly notarized.
Finally, consular officers reserve the rights to request more additional documents as deemed necessary.

The Thai Visa Application checklist for a Tourist Visa (TR) issued by the Royal Thai Embassy in Dhaka requires several documents. To begin with, the applicant must fill out an application form and sign it. Likewise (the signature must match the passport). The applicant must have a valid passport with at least six months of remaining validity. Also two blank pages to accommodate immigration stamps. The last Thai visa page must be photocopied (if applicable). Additionally one passport-sized photo taken against a white background within the past 6 months is required.
Furthermore, the applicant must provide evidence of adequate finance. Likewise a current bank solvency and bank statement of the last 6 months with satisfactory transactions. Additionally this should amount to at least 20,000 Baht per person and 40,000 Baht per family or 60,000 Taka per person and 120,000 Taka per family. Original bank statement and bank solvency letter are acceptable. Additionally if the applicant is sponsored by their company, the company's trade license, bank statement, and bank solvency letter must be submitted. See the Embassy contact details above.
Additional Documents
In addition, the applicant must provide evidence that they will leave Thailand after the trip. Such as a round-trip air ticket or traveling to a third country. They must also include a visa request letter. Also a No Objection Certificate (NOC) from the employer if employed. Additionally a BMDC certificate or letter from the hospital if the applicant is a Doctor. A Bar Council Certificate or letter from a law firm is necessary. This if the applicant is a lawyer, and a recommendation letter from the school/university or student card/evidence of school/university enrollment is required.
Moreover, the applicant must provide a trade license in Bengali and a photocopy of a notarized English translation. Salary Bank Statement (preferably)/Pay Slip/Salary Certificate are required for employees. If the applicant is unable to submit a salary certificate. Then details must be mentioned in the Office NOC. For married applicants, a copy of the Marriage Certificate (Nikah nama). This and a photocopy of notarized English translation must be submitted.
Finally, for those who wish to enter Thailand for medical treatment purposes. Additionally you must provide a copy of the appointment letter from the hospital in Thailand. In addition, a sponsorship letter along with the sponsor's bank statement and bank solvency letter for attendants/house maids is necessary. See also the Thai Embassy Australia on here.

When applying for a non-immigrant visa-O-A (Long Stay) at the Royal Thai Embassy in Dhaka, there are certain eligibility requirements that must be met. Firstly, the applicant must be aged 50 years and over on the day of submitting the application. Secondly, the applicant must not be prohibited from entering the Kingdom, must have no criminal record in Thailand or their country of nationality or residence, and must have the nationality or residence in the country where the application is submitted.
.
It's important to note that the applicant should not have any prohibitive diseases as indicated in the Ministerial Regulation No. 14 B.E. 2535. Furthermore, the non-immigrant visa-O-A is intended for applicants who wish to stay in Thailand for a period of not exceeding one year. Also without the intention of working. Employment of any kind is strictly prohibited. Finally, applicants have the option to submit their application at the Royal Thai embassy.
.
This or Royal Thai Consulate in their home or residence country or at the Office of the Immigration Bureau in Thailand. See also the Thai Consulate in New South Wales as well as the Thai Embassy in South Africa on here.

NON-IMMIGRANT VISA "O" 
The following is a list of activities for which a Non-Immigrant Visa "O" Others. This is Single Entry or Multiple Entry (1 Year) may be issued under Immigration Act 1979 Article 15 and 34(15):
To perform duties or tasks in a family of an alien. Those who has entered the Kingdom to perform diplomatic, official, or other functions. An applicant must be a father, a mother, a spouse, or a child of the alien.
To perform duties as a private servant in a residence of a person who is a member of a diplomatic mission. Also a person who has equal immunities and privileges as a member of a diplomatic mission, or with international organizations.
To support or to be supported by a person who is a Thai national or has permanent residence in Thailand. An applicant must be a father, a mother, a spouse, or a child of such persons.
To perform duties for state enterprises or charitable organizations (single entry only).
To enter the Kingdom of a person who once had Thai nationality.
To receive medical treatment.
To be a sport coach as required by the Thai Government. See (a sport coach for a private organization who earns money from the organization must apply visa for Non-Immigration category "B").
To be a contestant or a witness in a judicial process.
Lastly note that prior approval from the Royal Thai Embassy is required for application. This for a one-year Non-Immigrant Visa "O" before submission of visa fee. See also the Thai Consulate in Karachi and the Thai Embassy in London.

Incoming search terms: