Helsinki is home the the Thai Embassy Finland. If you would like more information about a Thai visa or how best to live and work in Thailand then you need to contact the embassy in Helsinki. The Thai embassy will be able to issue you a Thai visa be it for retirement, tourism or a marriage visa if you have a Thai wife. If you are a Thai in Finland and need consular services such as a new Thai passport.
Thai Embassy Finland
Maybe to register your baby born in Finland then the embassy will be able to assist. The contact details are below with a map. The Thai Embassy is close to Boss Shop and Universal Fitness Shop Oy in Helsinki. The retirement visa is aimed for those over the age of 50 years old. You can apply for the Thai "OA" visa in Finland and also the Thai "O" visa if you are married to a Thai or have a child in Thailand or Finland.
Thai Visa application
The new visa system (E-visa) started on 22 November 2021 at https://www.thaievisa.go.th/. It is important to note that the Royal Thai Embassy Helsinki processes visa applications only when the applicant is physically present in Finland or Estonia. To begin the process, you will need to create an account, which allows you to submit up to 10 applications per account. Once you have created an account, log in and upload all of the required documents.
Next, you will need to submit your application online and pay the visa fees using the secure portal. After the Embassy has received your documents, it will take approximately 7 working days to process your application, provided that all of the necessary documents have been submitted.
Once your visa has been granted, you will receive an e-mail approval. Please keep in mind that your passport must have at least 6 months of validity remaining before your departure date. Additionally, it is crucial to ensure that you provide the correct e-mail address to receive the E-Visa.
If you have any questions or concerns about your visa application, you can submit a visa enquiry by e-mail at visa@thaiembassy.fi.
Royal Thai Embassy in Finland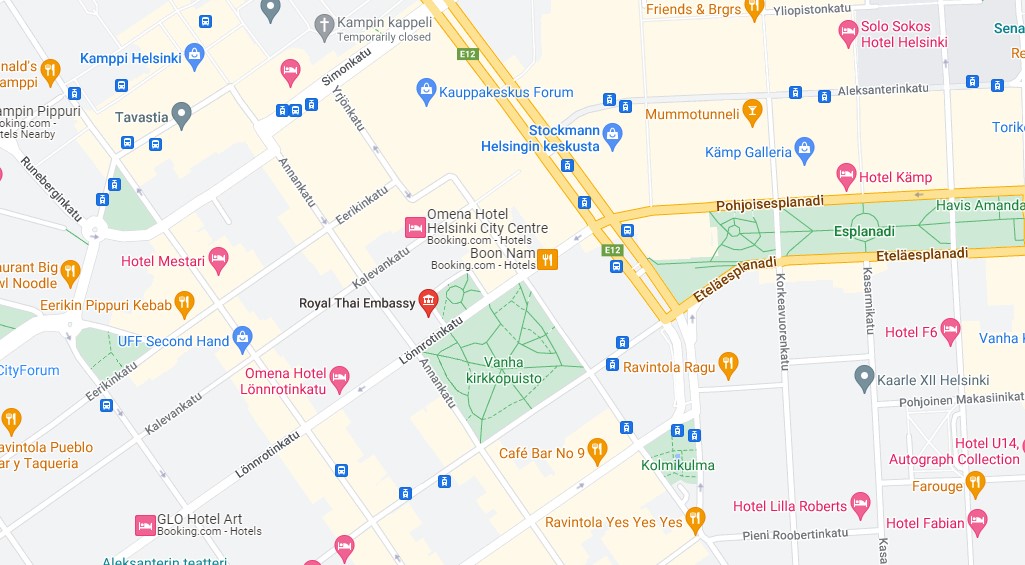 The Royal Thai Embassy has moved to a new location
Address: Lönnrotin Puistikko 5 A 2 (First floor ), 00120 Helsinki 
Thai Embassy in Finland (Thaimaan suurlähetystö)
Address: Lönnrotinkatu 7 B 12, 00120 Helsnki
Tel. +358 9 612 26415, +358 50 590 3560
Fax. +358 9 61226466
Email: chancery@thaiembassy.fi
Visa and Consular Section
Lönnrotin Puistikko 5 A 2, 00120 Helsnk
Office Hours : Monday - Friday only by appointment
Telephone service for visa : +358 50 366 4122 or visa@thaiembassy.fi
Consular Section
Thai passport and legalization services by appointment only
Please make appointment at consular@thaiembassy.fi or send the documents by post.
Telephone hour 13.30-16.00 hrs.
Tel. + 358 45 183 5900 (Passport), +358 50 387 6207 (Legalization)
Fax. +358 9 61226466
Email: consular@thaiembassy.fi

Incoming search terms: