The Thai Embassy in the Czech Republic is located in Prague. We have listed the contact details below with the embassy hours if you wish to go to the embassy yourself. We have included a map to the embassy in Prague for you. Also note that if you want to have a Thai visa issued then you should go to the embassy to complete the documents for your visa. Thai nationals can also obtain consular assistance at the Thai embassy in Prague.
Thai Embassy in Prague

The Royal Thai Embassy in Prague is the official diplomatic mission of the Kingdom of Thailand in the Czech Republic. Located in the heart of the city, the embassy provides consular services to Thai citizens living in or visiting the Czech Republic, as well as assistance to Czech citizens interested in traveling to Thailand.
The embassy plays a key role in promoting bilateral relations between the two countries, working to enhance trade, investment, tourism, and cultural exchange. The embassy is staffed with experienced and friendly professionals who are committed to providing high-quality service to all visitors. See also the Visa on arrival in Thailand as well as the Thailand passport visa free countries on here.
With a deep understanding of the unique cultural and business practices of both countries, the Royal Thai Embassy in Prague serves as an important bridge between Thailand and the Czech Republic, promoting mutual understanding and cooperation for the benefit of all.  See also the Thai Visa on Arrival Fees on here as well.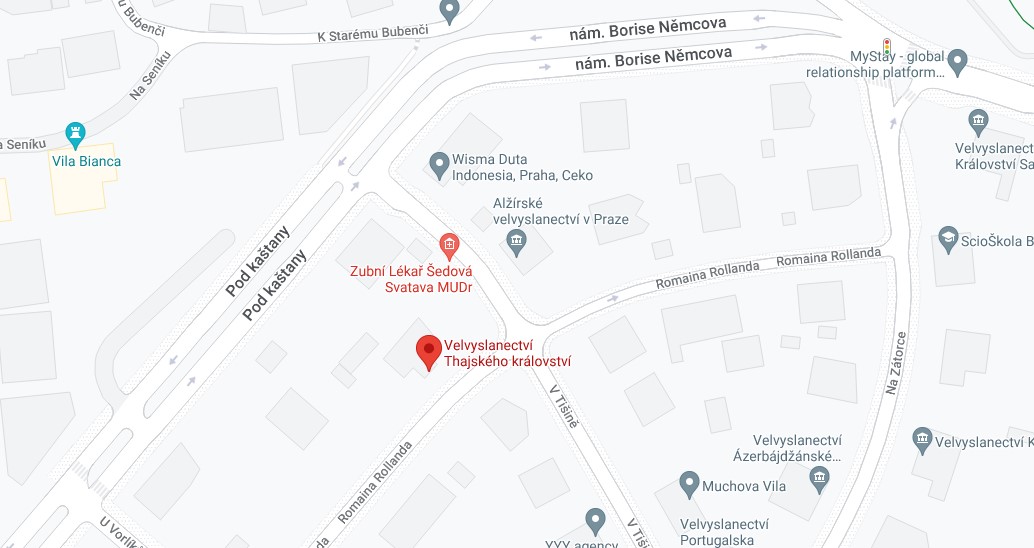 Velvyslanectví Thajského Království
Address: Romaina Rollanda 3/481, 16000 Prague 6- Bubenec
Telephone : (420) 220570055, 220571435, 220571735, 220571738
Fax : (420) 220570049
E-mail : info@thaiembassy.cz
For Visa/Legalization/Thai affairs : consular@thaiembassy.cz
Office Hours:
Everyday between 09.00-12.00 (except Embassy's Holidays)
Morning hours: 09.00 – 12.30
Afternoon hours: 14.00 – 17.00