The Thai Embassy is located in Pretoria in South Africa. If you are a South African and you want to visit Thailand for more than 30 days then you should apply for a Thai visa. South African get 30 days on arrival via the airport and 15 days when crossing a land border post. If you are looking at teaching in Thailand then consider a business visa or if you are married to a Thai then consider an "O" Visa or marriage visa. The contact details for the embassy are listed below.
Note that you need to be 50 years and older to apply for the
retirement visa
. The Thai Embassy in Pretoria will issue you with a 90 day Thai "O-A" Visa which you then need to extend in Thailand for 12 months. If you are getting a large pension from the government then you can ask the
South African Embassy in Bangkok
for a letter confirming your income. The SA Embassy can also issue you with a letter of no impediment stating that you are single and able to get married if you are getting married in Thailand and not in South Africa.
Royal Thai Embassy – Pretoria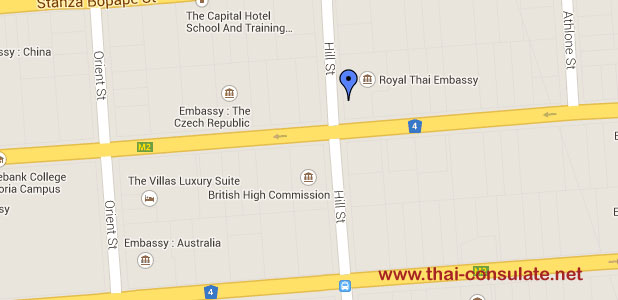 Royal Thai Embassy in Pretoria
Royal Thai Embassy in Pretoria
248 Hill Street (Corner of Pretorius Street)
P.O. Box 12080, Hatfield, Pretoria 0028
Tel : (27-12)342-4600, 342-5470
Fax : (27-12) 342-4805, 342-3986
Email : info@thaiembassy.co.za
Consular and Visa Section (Mondays – Fridays)
09.00 – 12.00 hrs. Visa submissions during this period ONLY
14.00 – 16.00 hrs. Visa collection for visas submitted the day before
All Offices are CLOSED on Saturdays, Sundays and Official/Public Holidays.
Incoming search terms: