If you are in Dubai then you can apply for a Thai visa in Dubai at the Thai Consulate. The Consulate is close to the Jumeirah Beach Hotel and up the road from the Raffles World Academy. Note the telephone numbers, email address and a map to the Thai consulate in Dubai and also their collection time for visas. They can issue you a retirement visa or a marriage visa if you are going to stay in Thailand. You can also ask them about registering your marriage in the country.
The is also a
Thai Embassy in United Arab Emirates
which is based in Abu Dhabi. Below is a map and the contact details for the Consulate in the UAE. Note the collection and submission times for your visa. If you are a Thai national then the Consulate can assist you with a passport or
new ID card
while in the Middle East. You can also obtain assistance with a
birth registration
and other legalisation processes in Dubai.
Thai Consulate in Dubai
Thai Consulate in Dubai
Thai Consulate in Dubai
Villa 35, Street No. 16, Community 366 Umm Suqeim 3, Dubai, United Arab Emirates
P.O. Box 51844 Dubai, United Arab Emirates
(Near Raffles International School West. Opposite Jumeirah Beach Hotel)
Consular Section
Telephone: +971 4 348 9550 Ext. 18, 31, 32 Fax: +971 4 348 8568
Email: visa inquiries :thaidub@gmail.com, other inquiries: thaidub@emirates.net.ae
Office Hours
The official office hours is Sunday – Thursday. Closed on Friday – Saturday & Official public holidays
Visa Submission
09.00 – 12.00 pm
Visa Collection
10.00 – 11.30 am
Passport for Thai Nationals
14.00 – 16.00 pm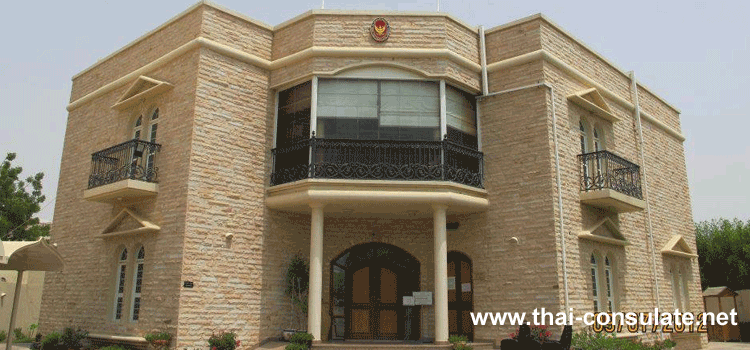 Incoming search terms: