The Thai Consulate in Kota Bharu is one of many Consulates in Malaysia. There is also a Thai Consulate in Penang and a Thai Embassy in KL. If you need to apply for a Thai visa. Many foreigners who live in Southern Thailand tend to go to this Thai Consulate. This as it is not as far or crowded as the Thai Consulate in Penang. The Consulate can issue you with a tourist visa, Thai marriage visa or a retirement visa for Thailand if you meet the visa requirements.
Thai Consulate in Kota Bharu
The Consulate staff are said to be very friendly and helpful and will assist you where needed. Note the map and contact details for the Consulate. Such as their email address and telephone numbers but also their opening and closing times. This for the visa application department as well as for consular assistance to Thai nationals in the area. Likewise see the Thai Embassy in Penang.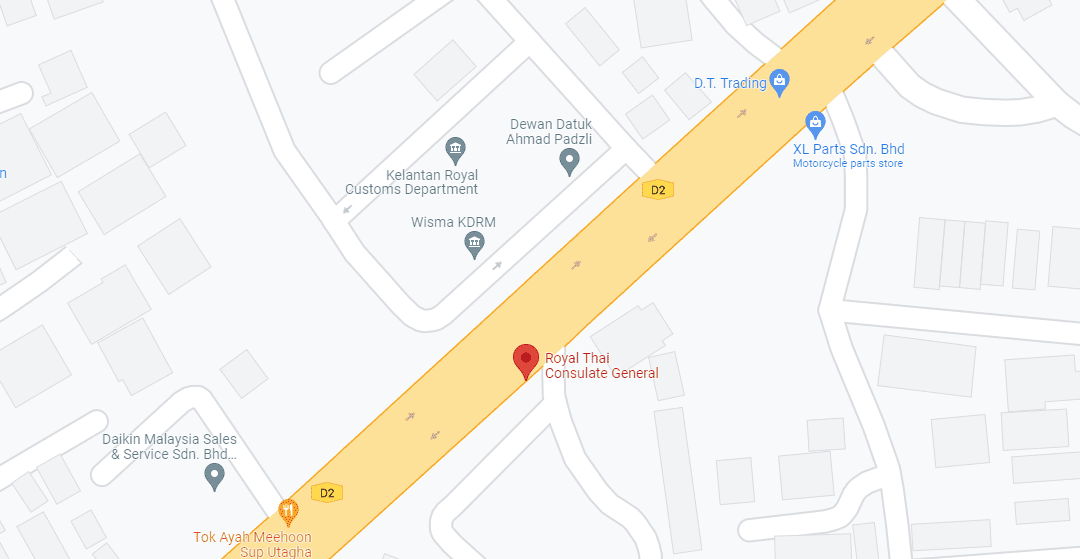 Thai Consulate in Kota Bharu
Street Address:
4426 Jalan Tok Guru, 15400 Kota Bharu, Kelantan
Telephone:
+609 743-0640 - Consular
+609 744-5266 / 748-2545 - Political & Economical
Fax:
+609 744-9801
Email:
thaiconsulate.KOB@mfa.mail.go.th
Business hours:
Sunday - Thursday Time 9:00 a.m. - 12:00 p.m. / Time 2:00 p.m. - 3:30 p.m. (Consular)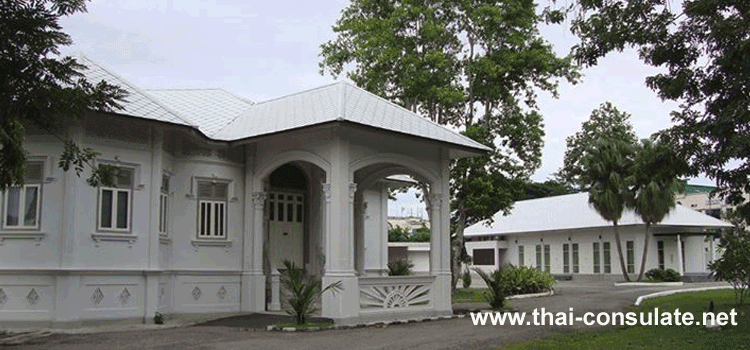 Thai Passport Services
If you live in Malaysia as a Thai national and your Thai passport is going to expire, then this is how to proceed. You should still have 6 months left in your Thai passport. You can apply for a new passport at the Consulate General in Kota Bharu. This can be done Sunday – Thursday from 09.00 – 12.00 and 14.00 – 15.30. The passports are made in Bangkok and it takes 3 weeks once your application has been submitted. What is needed?
If it is a Thai passport for a Thai child then you will need the following:
Their passport;
Their valid ID card or the child's birth certificate;
The Father's ID card or passport;
Mother's identity card or passport;
This passport application process takes 3 weeks so ensure that you apply for the passport before the time. Ensure this as you will need to change over your Malaysian visa from the old passport to the new passport. Always apply for this in time. If you lost your passport then you will need to report this to the Malaysia police. You will then need their case number and provide the Consulate with this police report.
Please call the Consular Section at +609-743-0640 for more information
To replace a lost passport, it is necessary to report the loss to the police station in Malaysia. After doing so, the applicant must bring a notification of the loss to the relevant authorities to apply for a new passport. However, if the applicant needs to travel back to Thailand urgently and cannot wait for a new passport, an alternative option is available.
The Royal Thai Consulate can issue a certificate of identity (CI) for travel purposes. To obtain the CI, the applicant must bring two 2-inch photographs with a straight face to be used in creating the document. It is important to note that the CI is only valid for one use and is exclusively for traveling back to Thailand.

Tourist Visa
If you are going to apply for a Thai tourist visa from Malaysia then your will need the following. As a Malaysian national you have a number of options. You can apply at this Thai Consulate in Kota Bharu or the Thai Embassy in Kuala Lumpur for the visa. There are also other Thai diplomatic missions. See also the TM8 and the visa free countries for Thai.  These include the Thai Embassy in Singapore as an example. The following documents are needed:
Your Malaysian passport or travel document with validity not less than 6 months;
Complete the visa application form;
Also one recent (4 x 6 cm) photograph;
Fully paid return air ticket;
Also show financial means (20,000 Baht per person and 40,000 Baht per family)
These are the conditions however there is no guarantee that you will obtain the visa.
RM150 per entry
Visa fee may be changed without prior notice

Spouse Visa
If you are married to a Thai then you can apply for the marriage visa or spouse visa for Thailand. You will need to ensure that you have all the needed documents and can show your Thai bank book to show you meet the financial requirements. What will your need for the marriage visa.
Your Malaysian passport with validity not less than 6 months;
Complete the visa application form;
Also one recent (4 x 6 cm) photograph;
Thai bank book showing 400,000 THB in your Thai bank account;
A letter from your Thai spouse asking for the visa;
Copy of your marriage certificate; (both versions if you got married in Thailand)
Copy of your spouses Tabian Baan; (House registration)
Copy of Thai spouse ID card;
It normally takes 2 business days to issue the visa. You can see the cost for the visa in Malaysia.
RM300 for single entry and RM750 for multiple entries.

Thai Birth Registration
If you have a child born in Malaysia you will need to register the child at the Consulate. There is a process for this and you will need all the documents for this.
House registration
Father and mother's ID card
Father and Mother's passport
Thai registration or issued by Malaysian authorities
A birth certificate issued by the Malaysian government and certified true by the Malaysian Civil Registration Office.
Two photographs of  the child as well as two photos of the child with you and your spouse.
These are the current requirements. You will need to make an appointment to do this and also check again what else might be needed and rules do change. Ensure that all your documents are certified such as the documents issued by the Malaysian government. Also ensure that you make more than one copy of these documents. See also the Thai Embassy in Austria as well as the Tourist Visa for Thailand.

Incoming search terms: