If you are in the Maldives then you will find the Thai Embassy in the Maldives in Male. We have listed their contact details below with a map and their operating hours for a Thai visa. You can apply for a tourist visa, marriage visa or a retirement visa while in the Maldives.
If you are older than 50 then a retirement visa is possible in the Maldives which you would need to extend in Thailand to a 12 month visa. The same goes for the Thai "O" visa which you can obtain for 3 months if you have a family member that is Thai such as a child or wife or husband for that matter. Note that they Embassy can also assist you with applying fora new Thai passport of a new
Thai ID card
if you lost your while on holiday in the Maldives. Contact the Thai Embassy if you need any assistance in this regard.
If you are a tourist while in the Maldives and thinking of visiting Thailand then you can apply for a 2 month tourist visa a the Thai Embassy in Male which can then be extended in Thailand for another 30 days for a fee at Thai immigration.
Thai Embassy in Maldives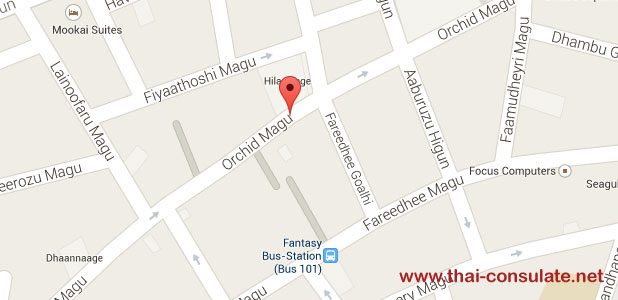 Thai Embassy in Maldives
Thai Embassy in Maldives
Shuaz Building (first floor) 50, Orchid magu Male' 20 - 02 Republic of Maldives
Tel: + (960) 3005006, 3005007
Fax: + (960) 3005008
Email: info@thaiconsulate.com.mv
Hours of operation: Sunday – Thursday: 9am to 12 pm & 12:30pm to 3pm
Visa Submission Time: Morning 9:30am - 11:30 am
Visa Collection Time: Afternoon 12:30pm - 2:30pm
Incoming search terms: