The Thai Embassy Oman. The Embassy is located in Muscat Oman. If you are a Thai working in Oman then the embassy can issue you with a new passport if they need. They can also provide you with consular services such as marriage registration and birth registrations. If you are from Oman then you can apply for a Thailand visa at the embassy. The details and telephone numbers of the Thai embassy in Oman is listed below.
Thai Embassy Oman
Likewise the Thai Embassy in Oman serves as the diplomatic mission of Thailand to the Sultanate of Oman. Additionally it aims to strengthen bilateral relations between Thailand and Oman through various means. Likewise including political, economic, cultural, and educational cooperation.
Located in the city of Muscat, the embassy provides consular services to Thai nationals residing in Oman and also assists Omani citizens who wish to travel to Thailand. The embassy's website contains useful information on visa requirements, travel advisories, and cultural events.
The embassy also works to promote Thailand's culture and traditions in Oman by organizing events such as Thai food festivals, cultural performances, and Thai language classes. These events allow Omani citizens to experience Thailand's rich cultural heritage and foster a deeper understanding of Thai culture and traditions.
In addition, the embassy actively engages in economic cooperation between Thailand and Oman by facilitating trade and investment opportunities between the two countries. It also provides information on business opportunities and market trends to Thai companies interested in doing business in Oman.
The embassy's staff is highly qualified and dedicated to providing efficient and friendly services to its clients. Thai nationals in Oman can rely on the embassy for assistance with passport and visa issues, while Omani citizens can benefit from the embassy's outreach programs that promote greater understanding and cooperation between the two countries. Additionally also see the Royal Thai Embassy in Prague and the Thai passport visa free countries.
Royal Thai Embassy Oman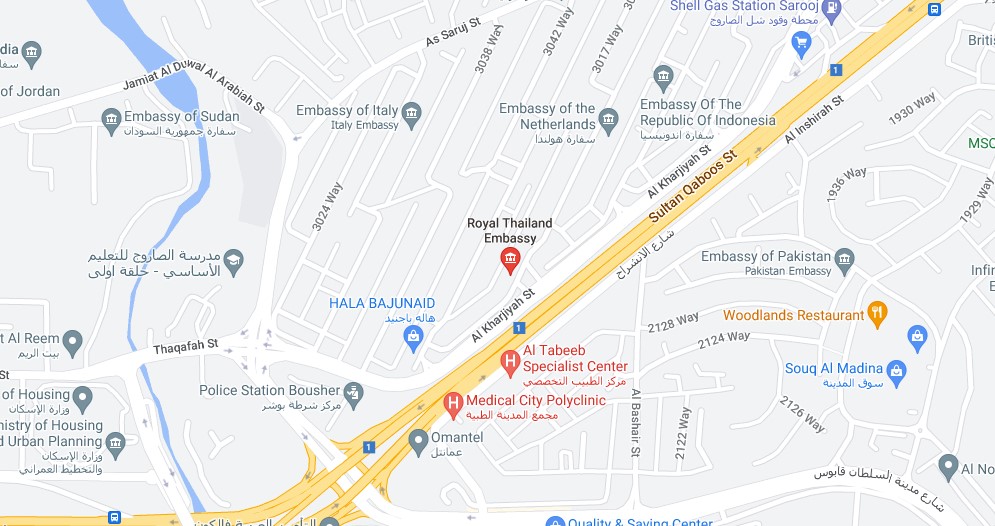 Thai Embassy Oman
Villa No. 1329 (ที่ตั้งเดิม เปลี่ยนเลขที่อาคาร), Way No. 3017,Shatti Al Qurum
P.O.Box 60, P.C. 115 Muscat, Oman
Tel : (968) 24602684-5
Fax : (968) 24605714
Email : thaiembassy.mus@mfa.mail.go.th
Email : thaimct@omantel.net.om

Thai Tourist or Transit Visa
Likewise to apply for a visa, there are several requirements that must be met. The first and foremost requirement is a valid passport that should be valid for no less than 6 months. Once this requirement is fulfilled, you must fill out and sign the application form, which can be downloaded online. Likewise read the visa on arrival in Thailand as well.
Additionally, two color photos of size 3.5 x 4.5 cm are required for the application. These photos should be taken within the last six months and must show your full-face directly facing the camera to reflect your current appearance.
Furthermore, a letter from a sponsor or employer is also necessary. Likewise this letter should state the purpose of your travel, your occupation, job position, and current salary. In addition along with this letter, a photocopy of an authorized signature is required.
A bank statement of the past six months is also needed, with a minimum balance of 500 OMR. Additionally, you must provide a photocopy of your passport and your Sultanate of Oman residence card.
Furthermore, you need to provide a photocopy of your airline ticket or confirmation slip that includes your name, flight number, date of entry, and date of departure. Lastly, a photocopy of your hotel reservation is required for your visa application.
It is important to note that all of these documents should be submitted together with the visa application form. Once these requirements are met, the application will be processed, and you will be notified of the outcome. Likewise see the Thai Embassy Qatar as well as the Thai Embassy in London.

Incoming search terms: