Madrid in Spain is where the Thai embassy in Spain is. If you are looking to invest or to visit Thailand then the embassy in Madrid is where the process starts. You can apply for a marriage visa if you are married to a Thai. You can also apply for a tourist visa if you want to visit Thailand for 2 months or if you are older than 50 then you can apply for an OA visa or retirement visa in Spain. There are a number of options.
You can also register a divorce, marriage or birth of a Thai national at the Thai embassy in Madrid. There is a map to the embassy below with all their contact details and their office hours.
Thai Embassy in Spain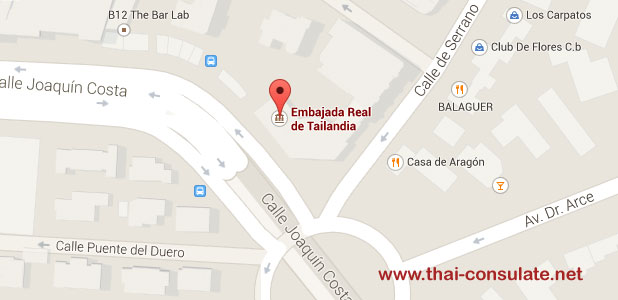 Thai Embassy in Spain
Thai Embassy in Spain
Calle Joaquin Costa, 29 28002 Madrid
Tel: (34) 91 563 2903, 91 563 7959, 91 411 5113
Fax: (34) 91 5640033, 91 562 4182
Email: madthai@temb.e.telefonica.net
Visa and Consular section : 9.00 - 14.00 hrs.
Incoming search terms: