Muscat is the home of the Thai Embassy in Qatar. This is one of the many Thai embassies in the Middle East where you can apply for a Thai visa to visit Thailand. You can also as a Thai citizen apply for a Thai passport, register a marriage or birth. The telephone numbers and a map of the location of the embassy is listed below. The embassy is known to be very foreigner friendly.
Thai Embassy in Qatar
The Thai Embassy in Qatar plays a crucial role in maintaining and strengthening the bilateral relations between Thailand and Qatar. As a result, it serves as a significant diplomatic mission for both countries. Firstly, the embassy provides a wide range of consular services to Thai citizens in Qatar. This includes issuing passports, visas, and other necessary documents. Additionally, the embassy offers assistance to Thai nationals in case of emergencies, such as medical or legal issues.
Furthermore, the Thai Embassy in Qatar serves as a focal point for promoting Thai culture and traditions. The embassy hosts various cultural events throughout the year, including Thai food festivals, traditional dance performances, and music concerts. These events are an excellent opportunity for Qataris and other expats living in Qatar to learn more about Thailand's rich heritage and culture. Likewise see the Thai Embassy Oman as well as the Thai Embassy Kuwait.
In case of emergency, call +974 5557 8760 or +974 3380 9062 (Visa and legal questions are not answered).
Moreover, the embassy plays a significant role in fostering economic ties between Thailand and Qatar. The embassy actively promotes trade and investment opportunities for businesses in both countries. It provides vital information to investors, entrepreneurs, and businessmen about the market trends, regulations, and policies in both Qatar and Thailand.
Thai Embassy Qatar
ฺBuilding 1, Street 941, Zone 63, Doha, State of Qatar
Tel : +974 4493 4432, +974 4493 4426
Fax : +974 4493 0514
Office Hours : Sunday -Thursday 9.00 - 12.00 hrs. & 14.00 - 15.00 hrs.
Email : thaidoh@qatar.net.qa
Email : consular.doh@mfa.go.th (Consular)
In conclusion, the Thai Embassy in Qatar is a vital institution that serves multiple purposes. From providing essential consular services to promoting cultural and economic ties, the embassy plays a crucial role in strengthening the relationship between Thailand and Qatar.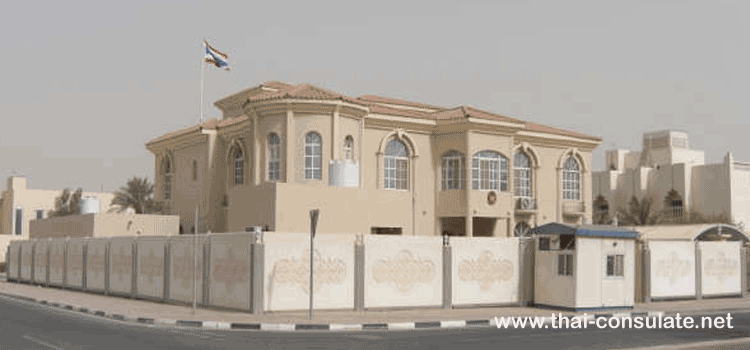 When applying for a tourist visa to Thailand, there are several requirements that applicants must fulfill. The visa application time is limited to 09.00 – 12.00 hrs. ONLY, and official days for processing visa applications are from Sunday to Thursday (except Embassy's official holiday). The releasing of approved visas will take place from 14.00 – 15.00 hrs. on official days. However, the working hours during Ramadan Holy Month will be different, and applicants should check for updated information. Likewise see the visa on arrival in Thailand on here as well.
The duration of the visa process is at least two working days, and the embassy will not issue a visa on the same day that the visa application forms and documents are received. In terms of the requirements for a visa, applicants must complete one typed visa application form (which can be downloaded), provide two colored passport-sized pictures with a plain background, and submit their original passport or travel document, as well as a photocopy of these documents.
Additional Documents
Additionally, applicants must provide a photocopy of their Residency Permit Card, signed by the applicant, and the original Residency Permit Card must be presented to the official of the Visa Section when applying for a visa. The validity of the passport or travel document should not be less than six months, and the validity of the Residency Permit Card should not be less than three months. Applicants must also provide a photocopy of their airline round-trip ticket and hotel booking during their stay in Thailand.
Furthermore, applicants must provide financial proof, which can be in the form of an Original Letter of Certification (Salary Certificate) indicating a salary of more than QAR 3,000, in English, from the sponsor/company/ or relating working organization. In case the applicant is not working, the sponsor could issue the letter and attach with a copy of the sponsor's QID card/passport, original letter(s) of sponsor's salary certificate (with a copy of establishment card)/bank statement, and a copy of the sponsor's ticket. Alternatively, applicants can provide a bank statement in the past three months with a minimum fund of THB 20,000 per person or THB 40,000 per family. Likewise also see the Thai Embassy in South Africa as well as the Thai Embassy in Pakistan.

(TYPED ONLY) visa application form

Salary Certificate

Thai Passport ( Passport)
An electronic passport (E-Passport) records biometric data, such as a picture of the face and iris or fingerprints, in a Contactless Integrated Circuit, which encrypts the data to verify the passport's authenticity. However, E-Passports cannot be renewed in the original book. Thus, when the passport expires, applicants must request a new book, and the personal information in the new passport will match the information in the applicant's house registration or ID card, not the original passport. If applicants want to change their last name to their surname after marriage/divorce, they must correct the information in the civil registration before applying for a passport.
To apply for an electronic passport, the petitioner must appear in person at the consular section of the Royal Thai Embassy in Doha, as biometric data must be recorded. It is important to note that passports with less than 6 months of validity cannot be used for travel to other countries except to return to Thailand. Therefore, it is recommended to apply for a new passport when there are approximately 7 months of validity remaining.
Individuals who have reached the age of majority (aged 20 years old). They can apply for a general passport in two types: a passport valid for 5 years with a fee of 150 Qatari riyals. This or a passport valid for 10 years with a fee of 200 Qatari riyals. However, if applicants are applying for a passport for the first time abroad. Note their name is not listed in the household registration despite being in the civil registration database, they can only obtain a general passport valid for 5 years. After completing the civil registration process, they can apply for a 10-year general passport.
Application Process
To apply for a Thai passport. Likewise applicants can apply for a new ordinary passport or E-Passport. This by filling out the application form and submitting it to the Royal Thai Embassy. The embassy staff will check for prohibited persons and then arrange to take pictures. Also collect fingerprints, and scan the iris. Only applicants must appear in person at the embassy to apply for an E-Passport, while parents must accompany minors (under 20 years old).
Likewise it takes about 3-4 weeks to receive a new passport or E-Passport. Also applicants can keep their original passport while waiting for the new book. The fee for a passport valid for 5 years is 150 Qatari riyals. This while the fee for a passport valid for 10 years is 200 Qatari riyals. Note that it must be paid in cash. In case of a lost passport. Note that an English version of the police report is required to accompany the request for a new passport.
Supporting documents for a passport include an ID card with one copy. Likewise a current passport, and a residence card of Qatar (QID) for persons aged 20 years and over. Additionally for persons under 20 years old and their parents who registered their marriage. The required documents include a current passport, an ID card with one copy. Likewise a copy of the Thai birth certificate, a copy of the house registration. Also a copy of the parents' passport pages (one set), and a copy of the parents' ID card pages (one set). Additionally, a copy of the marriage certificate of the parents must be provided.
See also the Thai Embassy in Nigeria as well as the Thai Embassy in Norway on this website.

Passport Application Form

Marriage Registration
When it comes to marriage registration or divorce registration at the embassy, there are a few important points to consider. Firstly, it's worth noting that this process can only be carried out for marriages between Thai nationals or between Thai nationals and foreigners. Additionally, it's worth bearing in mind that these registrations are considered under Thai law. To apply for registration, you must submit supporting documents to the staff in advance via email at consular.doh@mfa.go.th to ensure their accuracy.
The good news is that marriage registration and divorce registration are both free of charge. To apply for marriage registration, you will need to provide a few key pieces of supporting evidence. This includes a filled-in and signed marriage registration application and marriage registration transcript, as well as valid passports for both spouses. If you or your spouse are Thai nationals, you will also need to provide your ID card and house registration.
In the case of previous marriages and divorces, you will need to present a certificate of divorce registration. It's also important to bring two witnesses on the day of registration, along with their identification cards (or a copy of their passport if they are foreigners). If either party is a foreigner, you will need to obtain a certificate of marital status from the official authority of the country certified by the respective embassy or a letter from their embassy certifying their marital status, which must be certified by the Qatar Ministry of Foreign Affairs. These documents must also be certified at the embassy, and there is a fee of 55 Qatari Riyals per copy (cash only).

Incoming search terms: