This is the Thai Embassy in Morocco. Rabat is where you will find the Thai embassy in Morocco. The Thai embassy can issue you a Thai passport if you are Thai or you can register the birth of your child at the embassy if you are a Thai expat.
Thai Embassy in Morocco
You can also apply as a Moroccan for a Thai visa such as a tourist visa if you are looking at having a holiday in Thailand. You can also apply for a marriage visa if you are married to a Thai or a retirement visa if you are over 50 and wanting to retire.
The Thai Embassy in Morocco is the official representative office of the Kingdom of Thailand in Morocco. It is responsible for promoting and strengthening bilateral relations between Thailand and Morocco, as well as providing consular services to Thai citizens living in Morocco and Moroccan citizens interested in traveling to Thailand.
The embassy's consular services include visa applications, passport renewal, legalization of documents, and assistance to Thai citizens in distress. The embassy also provides information and assistance to Moroccan citizens who wish to travel to Thailand, study in Thailand or invest in Thailand.
Royal Thai Embassy Rabat Morocco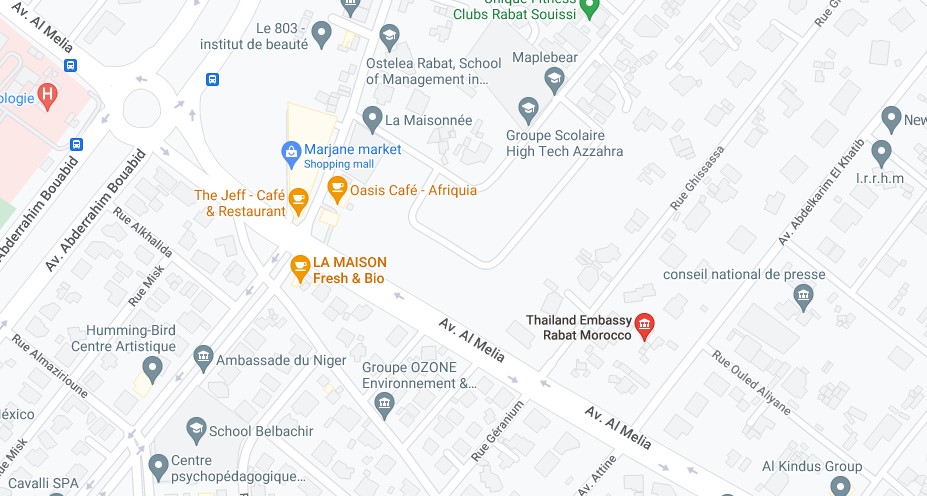 In addition to its consular services, the Thai Embassy in Morocco plays an important role in promoting cultural and economic exchanges between the two countries. It regularly organizes cultural events and exhibitions to showcase Thailand's rich heritage and contemporary culture. It also participates in trade fairs and business forums to promote trade and investment between Thailand and Morocco. see also the Morocco Letter of Affirmation as well as the Thai Consulate in Chennai on here.
Royal Thai Embassy, ​​Rabat
33 avenue Lalla Meriem, Souissi, 10170 Rabat, Morocco
Tel : +212 5 37 634 603 / 604
E-mail : thaima@menara.ma

Thai Tourist Visa (TR)
The Tourist Visa (TR) is a visa issued for tourist purposes, which allows a stay of 60 days from the date of arrival in Thailand. However, it is important to note that leaving Thai territory will automatically cancel the visa, regardless of the length of stay in Thailand. Nevertheless, the tourist visa can be extended for an additional month at an immigration service without having to leave the country.
To apply for the tourist visa, certain documents must be provided, including the passport information page, a color passport photo, and an identity card. Additionally, proof of booking a flight ticket with details of entry and exit from Thai territory within 90 days, as well as proof of accommodation, such as a hotel reservation or letter of invitation from a property owner with proof of ownership and identity document, must also be submitted. It is important to note that the passport must be valid for at least six months from the date of departure.

Visa non-immigrant O
This type of visa is limited to a 90-day stay. Likewise this does not permit the holder to work or make multiple entries into Thai territory. If the holder leaves the country. Likewise the visa will be automatically canceled, and a new application will be required to re-enter Thailand. However, once the holder is in Thailand. Additionally they have the option to extend or change the visa type at an immigration service. This particular visa. Known as the non-immigrant O visa, is intended for individuals with Thai family members.
Likewise to apply for the visa. The following documents must be provided. Firstly the passport information page (valid for at least 6 months from the date of departure). Secondly an official color passport photo, the family book page (spouse and/or child), marriage certificate. Thirdly the passport or identification card (valid) of the Thai family member with the mention "true copy" written, dated, and signed by the Thai person. Finally a bank statement or original bank certificate showing the requested credit balance, signed and stamped by the bank.

Visa non-immigrant OA
The OA Visa is the ideal choice for retirees over 50 years of age. Those who want to stay in Thailand for a year with multiple entries. However, this visa does not permit the holder to work. In case the stay exceeds 3 months for each entry, the holder must inform the immigration service. The visa can be extended by visiting the immigration service. But, for the 2nd visa application at the Embassy. Also a bank deposit of 800,000 baht in a Thai bank is required. Which must be shown in the form of a recent certificate or bank book updated less than 3 months ago.
Likewise to apply for this visa, some documents are required. Additionally including a valid passport, an official passport photo, a medical certificate, a recent criminal record extract. Also proof of address in Morocco. Health insurance with a minimum coverage of 100,000 US dollars, and a proof of resources.

The embassy is located in the city of Rabat, the capital of Morocco. It is staffed by a team of experienced diplomats and consular officers who are dedicated to providing high-quality services to the public. Thai citizens in Morocco and Moroccan citizens interested in Thailand can contact the embassy for information and assistance, and the embassy's website provides useful information on consular services, visa requirements, and other topics of interest. See also the Thai Consulate in Vancouver as well as the Thai Embassy Singapore – Visa.

Incoming search terms: