Manila is where you will find the Royal Thai Embassy Philippines. This embassy will issue you a business visa if you have the correct documents from a Thai company or school. They do issue tourist visas but they are very strict about the visa. You can also apply for a marriage visa if you have a Thai wife or Thai husband.
Royal Thai Embassy Philippines
If you are looking at retirement in Thailand then you can also apply for a retirement visa at the Thai embassy in Manila. The contact details are below. The Thai Embassy in the Philippines is the official diplomatic mission of the Kingdom of Thailand in the Philippines.
It is located in the capital city of Manila and provides consular services to Thai citizens living or visiting the Philippines. Likewise as well as assistance to Filipino citizens interested in traveling to Thailand. The embassy works to enhance the relationship between Thailand and the Philippines. Additionally focusing on areas such as trade, investment, tourism, and cultural exchange. See also the Filipino Certificate of Legal Capacity to Contract Marriage on here.
The embassy also provides information and support to those interested in learning about Thai culture, language, and tourism. With a team of experienced and friendly staff. They also serve as an important link between Thailand and the Philippines. Additionally promoting mutual understanding and cooperation for the benefit of both countries.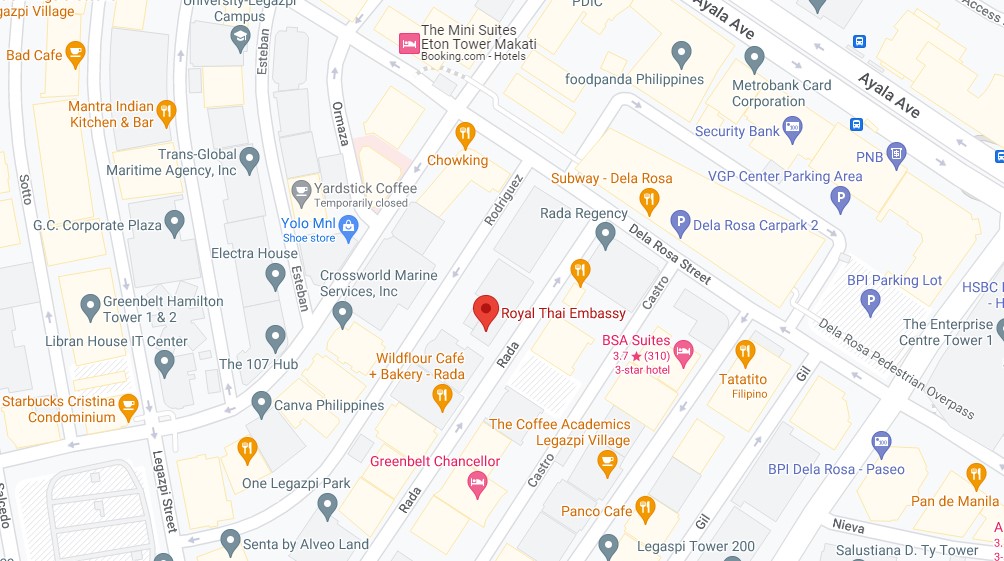 | Royal Thai Embassy Philippines | |
| --- | --- |
| | |
| 107 Thailand (Rada) Street, Legaspi Village, Makati City | |
| | |
| Chancery | TEL : (632) 8815-4219; (632) 8815-4220; |
| | |
| Visa Section | TEL: (632) 8810-3833 loc. 102 or 103 |
| | FAX: (632) 8817-4262 |
| | E-Mail: thaiembassy.mnl@mfa.go.th |
| | |
| Working Hour | Monday to Friday |
| | 0930 hrs. - 1230 hrs. |
| | 1330 hrs. - 1700 hrs. |
Additionally see Visa on arrival in Thailand as well as Thai Embassy in Beijing as well as the Thai Embassy in Morocco.

Incoming search terms: