You can contact the Thai Consulate in Perth for assistance with your Thai visa. If you cannot find the information or assistance that you seek then you can also contact the Thai Embassy in Adelaide for assistance or information. The contact details for the Thai Consulate has been listed below with the address, email and telephone numbers. There is also a map to the Consulate.
If you have a Thai wife you can also ask about registering the
birth of your child
in Perth so that the child can obtain Thai nationality. You can also ask the Consulate about retirement in Thailand and also about permanent residency in Thailand. Note that your Thai wife can also ask about applying for a new
Thai ID card
while still in Australia.
Royal Thai Consulate Perth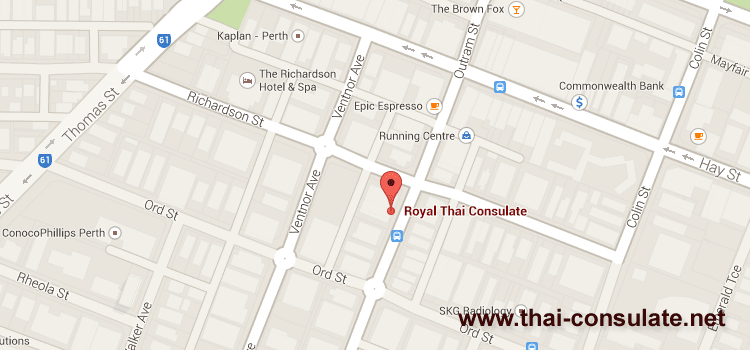 Royal Thai Consulate Perth
Royal Thai Consulate Perth
Ground Floor 28-42 Ventnor Avenue West Perth Western Australia 6005
Postal address : PO Box 848 West Perth WA 6872
Tel : (08) 9226 2288
Fax : (08) 9226 2120
Email: thaiconsulateperth@hotmail.com