The Thai Embassy in the UAE is located in the city of Abu Dhabi. If you are looking at visiting Thailand then speak to the staff at the Royal Thai embassy in Dubai. This embassy can issue you with a Thai visa. If you are a Thai the embassy can also assist you with a passport, registration of marriage, birth and help you with other consular services. The map tot he embassy and the telephone numbers are listed below.
Note that there is also a
Thai Consulate in Dubai
if you are not near Abu Dhabi. You can check this website for their contact details such as their telephone numbers, fax or a map to the Consulate.
Royal Thai Embassy – Abu Dhabi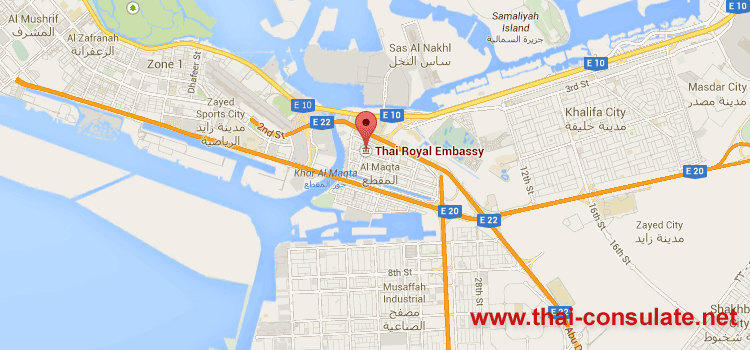 Thai Embassy in United Arab Emirates
Thai Embassy in United Arab Emirates
Villas No. 1 & 2, Plot No. B7, South 22, Between Two Bridges, Abu Dhabi
P.O. Box 47466, Abu Dhabi
Tel : +971 2 557 6551
Fax : +971 2 557 6552 – 3
Email : thaiauh@emirates.net.ae