These are the details of the Thai Embassy in Saudi Arabia. Likewise if you are a Saudi Citizen and wish to visit Thailand then speak to the Thai Embassy in Riyadh, Saudi Arabia. Additionally if you have family in Thailand then you can apply for a marriage visa or Thai "O-A" visa. If you wish to visit Thailand for tourism then apply for a tourist visa. If you are doing business then apply for a business visa for Thailand.
Thai Embassy in Saudi Arabia
If you are a Thai citizen working or living in Saudi Arabia, then you can contact the embassy for consular services such as a new passport, registering your child or other assistance. The contact details and map is listed down below. Note that there is also a Thai Consulate in Jeddah in The Kingdom.
The embassy is the official diplomatic mission of the Kingdom of Thailand in Saudi Arabia. It is located in the capital city of Riyadh and provides consular services to Thai citizens living or visiting Saudi Arabia. This as well as assistance to Saudi Arabian citizens interested in traveling to Thailand.
The embassy plays an important role in strengthening the relationship between Thailand and Saudi Arabia, focusing on areas such as trade, investment, tourism, and cultural exchange. The embassy also provides information and support to those interested in learning about Thai culture, language, and tourism. See also the Thai Consulate in Jeddah as well as the Thai Embassy Jordan on here as well.
With a team of professional and friendly staff, the Royal Thai Embassy in Saudi Arabia serves as an important link between Thailand and Saudi Arabia, promoting mutual understanding and cooperation for the benefit of both countries.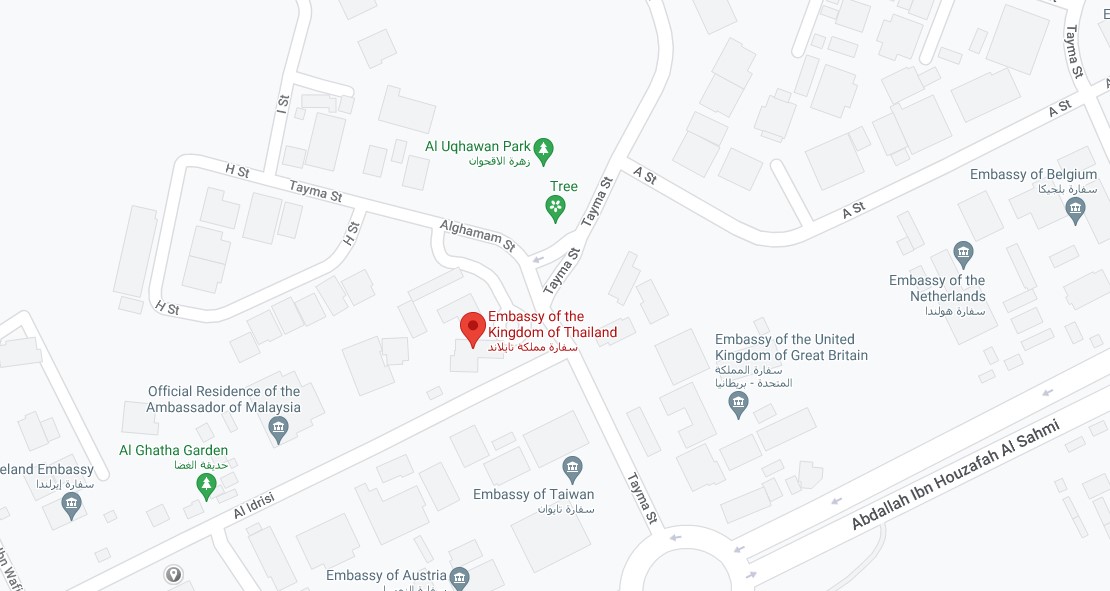 Royal Thai Embassy Riyadh, Saudi Arabia
Diplomatic Quarter, P.O. Box 94359, Riyadh 11693
Tel : (966-1) 488-1174, 488-0797, 488-0300, 488-1507
Fax : (966-1) 488-1179
Official Days & Hours:
Saturday – Wednesday : 09.00 – 16.00 Hours
Visa Hours : 09.00 – 12.00 Hours
Official Weekend : Thursday & Friday
Embassy: thaiembassy.ruh@mfa.go.th
Consular: consular_riyadh@hotmail.com
Visa: thaivisariyadh@gmail.com

Incoming search terms: