If you are a Saudi Citizen and wish to visit Thailand then speak to the Thai embassy in Riyadh, Saudi Arabia. If you have family in Thailand then you can apply for a marriage visa or "O" visa. If you wish to visit Thailand for tourism then apply for a tourist visa. If you are doing business then apply for a business visa for Thailand.
If you are a Thai citizen working or living in Saudi Arabia, then you can contact the embassy for consular services such as a new passport, registering your child or other assistance. The contact details and map is listed down below. Note that there is also a
Thai Consulate in Jeddah
in The Kingdom.
Royal Thai Embassy Riyadh, Saudi Arabia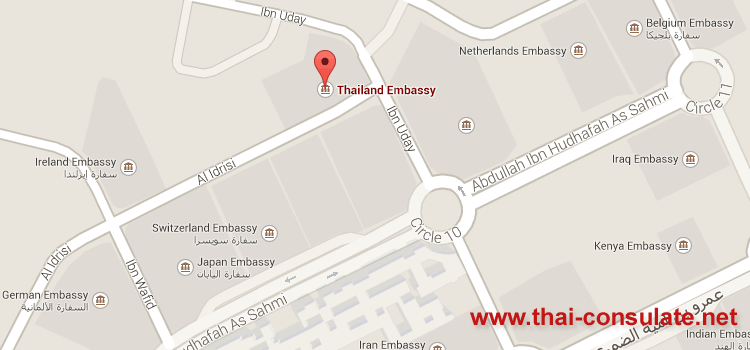 Royal Thai Embassy Riyadh, Saudi Arabia
Royal Thai Embassy Riyadh, Saudi Arabia
Diplomatic Quarter, P.O. Box 94359, Riyadh 11693
Tel : (966-1) 488-1174, 488-0797, 488-0300, 488-1507
Fax : (966-1) 488-1179
Official Days & Hours:
Saturday – Wednesday : 09.00 – 16.00 Hours
Visa Hours : 09.00 – 12.00 Hours
Official Weekend : Thursday & Friday
Incoming search terms: