Copenhagen in the home to the Royal Thai Embassy Denmark. If you want to retire in Thailand then the embassy in Copenhagen can issue you a retirement visa or if you are wanting to tour Asia or Thailand then a tourist visa would be the way to go. Speak to the Thai embassy about your visa options and how best to stay, visit or live in Thailand.
Thai Embassy in Denmark
If you are a Thai national in Denmark then the embassy can issue you with a marriage certificate, register you child born in Denmark or issue you a new passport. The contact numbers and a map to the embassy is listed below.
The Royal Thai Embassy in Denmark is the official diplomatic mission of the Kingdom of Thailand in Denmark. It is located in the capital city of Copenhagen and provides consular services to Thai citizens living or visiting Denmark, as well as assistance to Danish citizens interested in traveling to Thailand.
The embassy works to enhance the relationship between Thailand and Denmark, focusing on areas such as trade, investment, tourism, and cultural exchange. The embassy also provides information and support to those interested in learning about Thai culture, language, and tourism. See also the Thai Retirement Visa.
With a team of dedicated and knowledgeable staff, the Royal Thai Embassy in Denmark serves as an important link between Thailand and Denmark. Likewise promoting mutual understanding and cooperation for the benefit of both countries.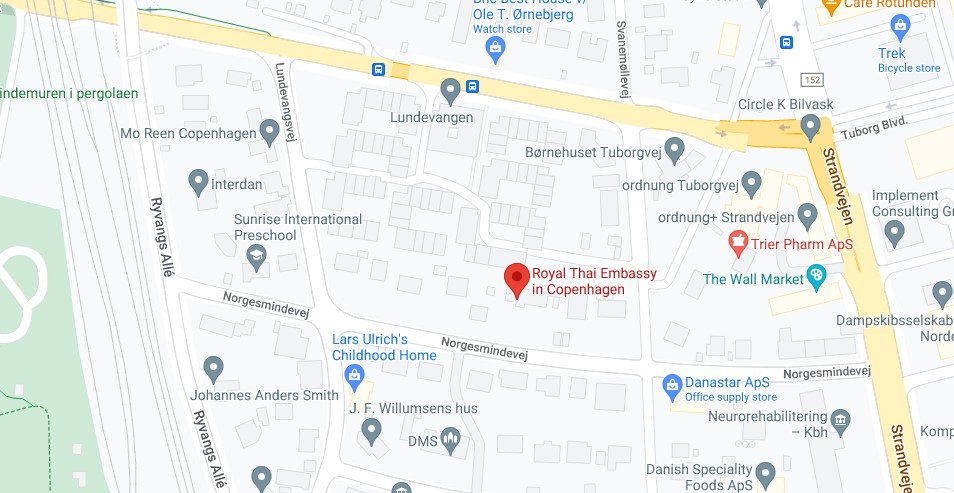 Royal Thai Embassy Denmark
Norgesmindevej 18
2900 Hellerup Copenhagen Denmark
Working hours: 09:00-12:00 and 13:00-16:00 hrs. (Monday-Friday)
Closed on Saturday - Sunday and Official Holiday
Telephone : +45 39 62 50 10 (From 13.00-15.45 ONLY)
FAX: +45 39 62 50 59
Consular Section
Legalization : 09:00-11:45 and 13:00-15:45 hrs.
Make an appointment for Thai passport and Thai ID Card
E-mail : visa@thaiembassy.dk
Closed Saturday/Sunday and official holidays. See the national day of Thailand and the national day of Denmark. Likewise see the British Embassy in Denmark as well as the Royal Thai Embassy Kathmandu.

Incoming search terms: