If you live in the Portland then you can contact the Thai Consulate in Oregon for assistance. They can assist you with a Thai visa such as a Thai marriage visa or a Thai tourist visa if you are visiting Thailand. They can also assist you and your Thai wife with a birth registration while in the US or provide you with more information about Thailand.
Thai Consulate in Oregon
Firstly there are a number of Thai Consulates in the US with the Thai Embassy in Washington being the only Embassy in the US. Their details have also been listed on this website. You can also ask the Embassy about marriage registration in Thailand and the documents needed.
The Thai honorary Consulate in Oregon. They play a vital role in strengthening bilateral relations between Thailand and Oregon. Firstly, the consulate serves as a focal point for Thai nationals residing in Oregon. Likewise providing them with consular services and assistance when needed. Moreover, the Honorary Consulate actively promotes cultural exchanges and events. Thus fostering a deeper understanding of Thai traditions and heritage within the local community.
Additionally, the consulate facilitates trade and investment opportunities between Thailand and Oregon, promoting economic cooperation and business partnerships. Furthermore, the honorary consulate acts as a liaison between Thai authorities and the local government, facilitating communication and collaboration on various matters of mutual interest.
The Royal Thai Honorary Consulate General in Portland, Oregon. Honorary Consulates are no longer able to issue visas. However, you will find information on the new Thailand Pass Registration System and e-Visa Stickerless System.
You are required to submit visa applications to the Royal Thai Embassy or the Royal Thai Consulate General New York, Chicago and Los Angeles.  No exceptions.
Globally there is Royal Thai Embassy in Germany on here and the Thai Embassy in Beijing and Thai Consulate in Chengdu.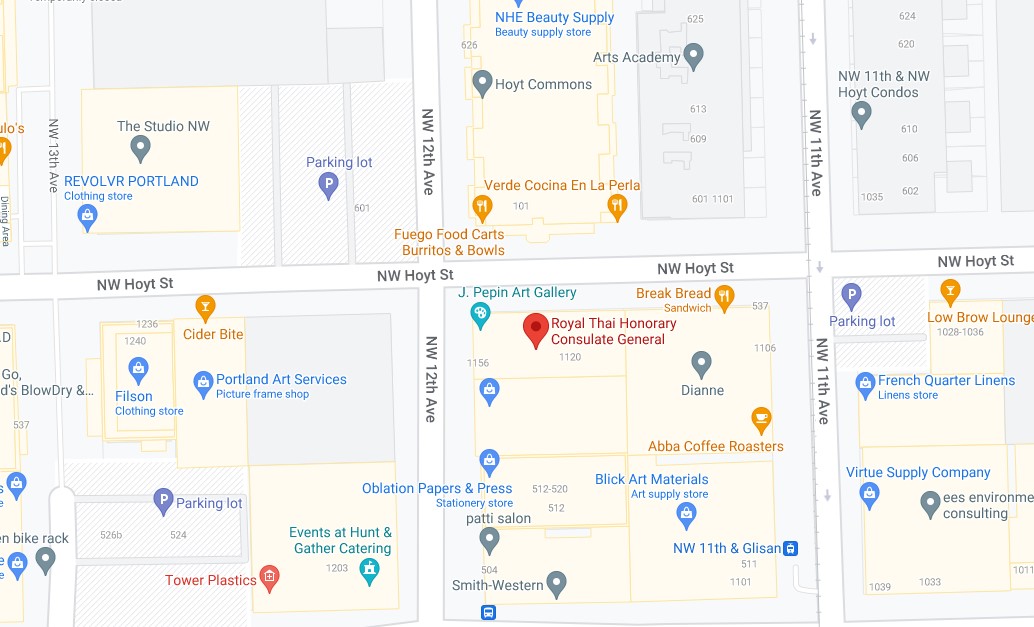 Thai Consulate in Oregon
1136 NW Hoyt St, Suite 210, Portland, OR 97209
Tel : (503) 221-0440 | Fax : (503) 221-0550
E-mail : thai@siaminc.com
In addition also see the Honorary Consulate in Dallas and the Honorary Consulate in Houston.

Incoming search terms: