The Thai Consulate Antananarivo can assist you with a Thai visa if you wish to come to Thailand on holiday. There are many good hotels in Bangkok where you can stay however you need to apply for the correct visa before you visit Thailand. You can apply for a tourist visa for Thailand or a Thai marriage visa if you are married to a Thai national. Thailand has many Thai monuments and also have many entertainment areas in Thailand.
The contact details for the Thai Consulate in Madagascar is listed below with a map and all their contact details such as their telephone numbers, fax numbers and also their email addresses as well as their office and operating ours.
Thai Consulate Antananarivo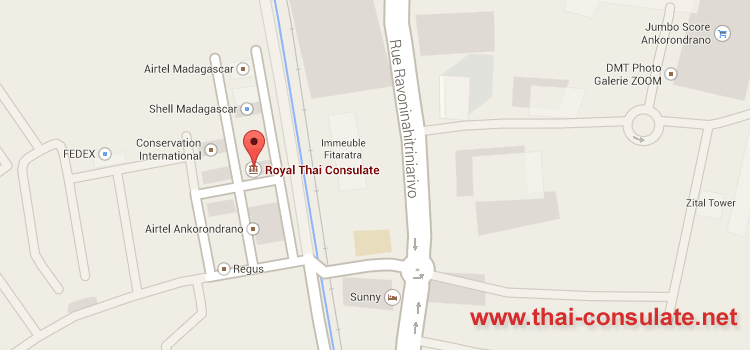 Thai Consulate in Antananarivo
Thai Consulate in Antananarivo
Royal Thai Consulate-General Batiment D1,Village des Jeux Ankorondrano, Antananarivo 101
Tel : (261 20) 22 556 26
Fax : (261 20) 22 373 94
E-mail : thaitnr@mfa.go.th
Website : http://www.thaiembassy.org/antananarivo
Office Hours : Monday-Friday : 08.30 – 12.00 hrs./ 13.00 – 16.30 hrs.
Visa and Consular section : Monday-Friday : 09.00 – 11.30 a.m./ 14.00 – 15.00 p.m.
Incoming search terms: